The summer season is the perfect time to revamp your bathroom by refinishing the bathtub, shower, and countertops. With a little paint on the walls, you will be amazed at the transformation. Plus, it is a weekend project.
Walls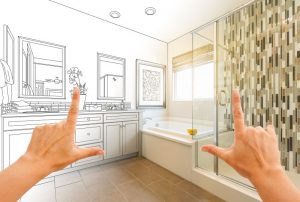 Painting the walls is an easy and cost-effective way to make your space more inviting. Semi-gloss paints are the best option to avoid fading and mold. Another affordable and easy way to make your space more contemporary is to cover the walls. You can also tile the walls or add storage if you feel more ambitious. You can add bright colors to make your bathroom appear more inviting and lighten the space. The bathroom can be given a summery feel by using colorful faucets and accessories for your shower.
Wall Decor
If you're planning a summertime bathroom renovation, changing up your wall decor is a fantastic option to make your space sparkle. The summer months are a wonderful time to introduce lighter hues and textures into your home. Wall decor should give an airy and fresh peace. This summer bathroom remodeling idea can be accomplished without spending a fortune. Natural wood elements and raw materials can give your space a summery look.
Bathtub Refinishing
Your bathtub is crucial to a summer remodeling project. We can restore cast iron and porcelain bathtubs. We can also refinish fiberglass bathtubs with a glossy, clean finish that will last for many years. Our clients consistently rave about the beautiful job we do when we refinish their bathtubs.
Paint Electric Outlet Covers
You might choose a lighter shade if you are working on a summer bathroom renovation project. This will make your outlets appear brighter. To cover the holes, you can use paper towels or folded cardboard. Outlet covers are usually inexpensive, so you can buy a new one and reuse the old one. After the cover has been installed, paint the outlets with two-part enamel color. It would be best to clean the outlet covers before applying the paint.
Wallpaper
You can also choose a wallpaper that has a summer theme. Brightly colored plants and greenery will add a touch of brightness. Trees are an excellent option for outdoor spaces. It is also possible to incorporate stone tiles into the space to add depth. Don't forget to keep your summer bathroom remodel project within the budget you have set.
Sink Countertops
Refinishing is a better option than replacing sink countertops or a vanity surface. Our kitchen countertop experts can professionally refinish your surfaces for a fraction of the cost of replacement. Even if you have the budget, refinishing your sink countertops will give you the same result as a new sink. It is also less of a hassle.
Tile Reglazing
Is your grout between tiles too dirty to clean? Grout and tile removal used to be your only option. Today, however, you can have it repaired, restored, and resurfaced on-site with our bathroom remodeling technicians. Tiles can change the way your bathrooms look for your summer remodeling project. Our bathroom remodeling technicians only use the highest quality of materials. Consider tile reglazing for your summer bathroom remodeling project. Your bathroom will thank you for it.
Add Fun Curtains
Consider installing new curtains to add color and style to your summer bathroom renovation. Consider a summery style and choose a bright color Curtains will make your home look great and keep it cooler.
Make It More Useful
You can add towel bars and hooks to make your bathroom more organized. You can organize the space with glass shelves. When choosing bathroom containers, you should choose containers that reflect your space's personality.
These simple, practical details will beautifully transform your bathroom.
Specialized Refinishing Company
Specialized Refinishing Co focuses on repairing or refinishing bathtubs, showers, sinks, and commodes – any area in your bathroom or kitchen that can be refinished. You can save a ton of money on your summer remodeling project if you hire the Specialized Refinishing Company. We have the experience, dedication, and high-quality materials to resurface countertops. We make every effort to produce a stunning final product that will last over time, from preparation to the products we use. We have highly trained and certified employees skilled in refinishing, surface resurfacing, and reglazing.