Why Refinish vs Replacing
Refinishing, resurfacing, and reglazing is a smart and economical choice to deal with an outdated or damaged bathtub, cast iron bathtub, clawfoot tub, pedestal tub, shower, ceramic tile, sink, farm sink, vanity, countertop, cabinet, antique, or antique furniture. Outdated colors can be changed and look new again. You can select a color to fit your new décor and even add a textured finish to your countertop!
Most customers can't tell the difference between a refinished tub and a new one. Faced with worn or dated fixtures, you have the choice of refinishing or replacement. Think twice about replacement. Replacement, especially bathtubs, includes expensive tradesmen and a week of hassles. Frequently demolition is required. That means noisy, dusty work that can cause damage to your floors, walls and plumbing. Not to mention the cost savings.
Considering refinishing yourself?
We strongly suggest you don't. Bathtub refinishing or reglazing is not a do-it-yourself project; it involves the use of strong chemicals and materials that are beyond the skill and ability for most homeowners and untrained users.
DIY kits are limited in their strength, durability and way they are applied. Most often DIY refinishing jobs end up being redone by a professional with the additional cost of stripping the peeling finish. If these kits actually worked, there'd be no need for professional refinishers.
Trust the Highest Rated Bathtub Refinishing Team
The Specialized Refinishing Advantage

Written Lifetime Warranty
We stand behind our tub refinishing work & offer the best warranty in the business.

Unlike remodeling, refinishing causes minimal disruption to your home.

Our durable, industrial-strength coatings make your refinished bathtub like new.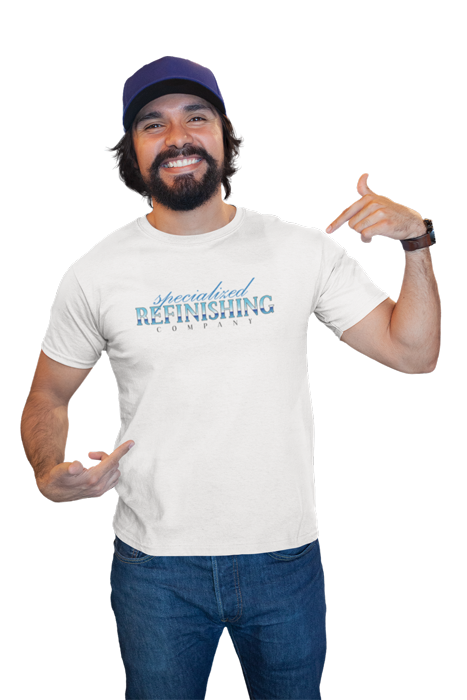 Most jobs are finished in 4 or 5 hours, not days or weeks.

We've provided expert refinishing services since 1994.

With decades of service & 1000's of happy customers, you can rely on us.