Get a Written
LIFETIME
Warranty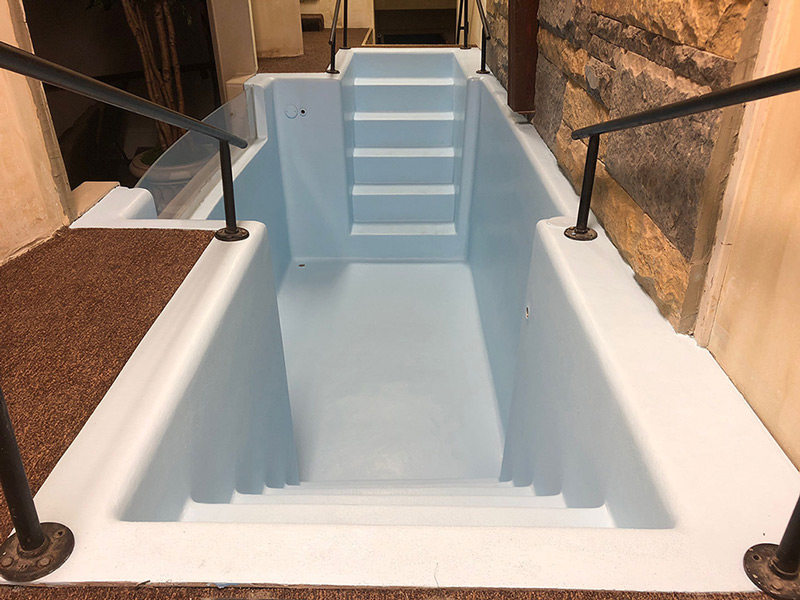 Baptistry Refinishing
Instead of paying a large sum for a whole new baptistry for your church, we can help you save money while revitalizing and restoring your baptistry to its former glory with our professional repair and refinishing services.
Why Choose Baptistry Repair?
Over time, the baptistry at a church can see quite a lot of traffic. While having the opportunity to baptize many people is a wonderful thing, the traffic can lead to wear and tear on the interior. Foot traffic can cause cracks which lead to leaks while minerals in the water can lead to staining. Your once pristine baptistry looks worn and old, and it may even be a safety hazard that can harbor mold or algae.
While you certainly can't go without this truly sacred part of your church, replacing your baptistry can cost thousands of dollars, and that's just the fiberglass pool. That's not including any exterior wood facing or glass. That amount of money can certainly put a dent in your church's budget, and often, that money is set aside for other use, such as youth trips, community outreach, or repairs to other parts of your building.
Instead of replacement, consider the benefits of choosing to refinish instead! An experienced team of professionals can refinish the fiberglass or tile of the pool, repair any leaks around the seals, and restore any wood decoration around the exterior.
Trust the Highest Rated Baptistry Refinishing Team
Church Refinishing Services
In addition to baptistry repair, we also offer commercial refinishing services for kitchens and bathrooms that can save your church a great deal of money, including:
Bathtub Resurfacing
Fiberglass Shower Reglazing
Shower Tile Reglazing
Wall Tile Reglazing
Floor Tile
Crack and Chip Repair
Vanity Refinishing
Countertop Refinishing
Why Choose Baptistry Repair
There are several benefits to choosing baptistry repair along with our other refinishing services for your church.
Cost. The primary benefit is certainly the price – having your baptistry resurfaced can be done at just a fraction of the cost of replacing the pool.
Time. There is little to no downtime involved in refinishing and restoring the baptistry, and because we're laying a new surface over an existing set-up, there's no demolition or renovation mess to clean up. Even if you have a baptism scheduled for the following Sunday, you'll have no problem accommodating your parishioners.
Durability. Instead of filling a landfill with construction waste, by refinishing the baptistry, there's little to no trash involved.
Results. You don't have to sacrifice the beauty and tranquility of your baptistry for time and cost. Baptistry repairs and refinishing provide a new, pristine appearance that will be a lovely addition to your church.
Why Choose Specialized Refinishing for Your Baptistry Refinishing?
Specialized Refinishing is dedicated to providing quality work to homes, businesses, and churches across Raleigh, Durham, Greensboro, Charlotte and the surrounding area. With over 20 years of experience, we never cut corners, skip steps, or do anything that would jeopardize the integrity of our work, so you can feel confident that any work we do will stand the test of time.
Our goal is to ensure that our customers are 100 percent satisfied with the work we do and we are so committed to that, we offer a lifetime guarantee on all our work!
In addition to baptistry repairs and refinishing, we offer a wide variety of other services that can restore your church to a beautiful appearance at a significantly lower cost than replacement. This includes:
Sink resurfacing in your church's kitchen and bathrooms
Countertop resurfacing
Cabinet refinishing
Grout cleaning & tile reglazing
Wood refinishing
The Specialized Refinishing Advantage

Written Lifetime Warranty
We stand behind our tub refinishing work & offer the best warranty in the business.

Unlike remodeling, refinishing causes minimal disruption to your home.

Our durable, industrial-strength coatings make your refinished bathtub like new.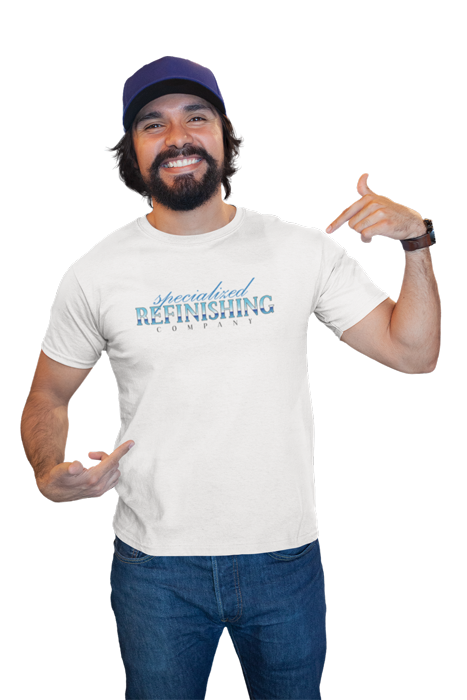 Most jobs are finished in 4 or 5 hours, not days or weeks.

We've provided expert refinishing services since 1994.

With decades of service & 1000's of happy customers, you can rely on us.