You may have encountered several different terms referring to the process of refinishing your kitchen and bathroom. Please note that all the various terms used to refer to refinishing are in all major respects the same process:
Restoring = Refinishing = Resurfacing = Reglazing = Recoloring
The difference is associated with the methods and materials used in surface preparation, priming, and top coating. The differences are not ascribed to any particular term above.
Resurfacing is a multi-step procedure
Applicators used by Specialized Refinishing Co. follow detailed, step-by-step procedures to ensure a professional finish and long-term durability. There are differences when refinishing different surface materials and different fixtures, but the basic steps are the same. The following example illustrates the main steps in the refinishing of a built-in, porcelain coated cast iron bathtub:
STEP 1 – Before
Tubs with porcelain surfaces and vitreous enamel surfaces can become thin and porous over time, absorbing soap, body oils and cleaners. This leads to pinholes, rust, chips and exposed metal areas. Molded acrylic fiberglass tubs on the other hand can crack when the acrylic skin has worn very thin. Daily wear and tear can chip and scratch any surface, including baths, basins, toilets and cabinets.
STEP 2 – Trim Caulk
Existing caulk is removed to allow resurfacing to extend under the tiles. If the subsurface behind the wall is damp, it is dried out before resurfacing.
STEP 3 – Clean the surface
The surface is thoroughly cleaned, removing grease, soap residues and other contaminants from the surface.
STEP 4 – Surface Etching
A controlled surface etch is used to create a stable, uncontaminated micro-porosity which is excellent for enabling the bonding agent system that follows to achieve a very high bond strength.
STEP 5 – Chip Repair
Chips and cracks are repaired with either a blended epoxy resin requiring heat cure or a fast cure, polyester filler. The epoxy system is designed for use on mineral surfaces such as porcelain and vitreous enamel, and the polyester system is use on synthetic materials such as acrylic.
STEP 6 – Masking
The entire area is prepared for treatment. Skilful masking ensures that the coating system is only applied to the surfaces that are being resurfaced, with all other areas protected from over spray.
STEP 7 – Spraying Bonding Agent
A non-hygroscopic bonding agent primer provides the bond between surface and top coating. An exhaust system unit is used to remove any solvent smells during the spray application procedures. The refinishing system derives its superior adhesion from both a mechanical and chemical bond.
STEP 8 – Preparing to Spray
The resurfacing coating is activated and allowed to catalyze for at least 30 minutes prior to spraying.
STEP 9 – Spraying the Coating
Three coats of are then applied, with an average wet film thickness of approx. 75 microns per coat. The procedures followed combined with the remote pressure pot system used by applicators ensures a very smooth finish and uniform dry film thickness at finish.
STEP 10 – After
After drying and curing, your bathroom will have a whole new look. The chips, scratches and rust have disappeared and in their place is a tough, shining surface that is easy to clean and capable of lasing for many years at a fraction of the cost of total replacement.
Trust the Highest Rated Bathtub Refinishing Team
Our Tile Reglazing Process
Specialized Refinishing Co. uses the following procedure with our skilled technicians for all tile refinishing, resurfacing, and reglazing jobs:
We fix or remove any loose tiles.
We clean all of the tile, and re-grout where applicable.
All defects, such as holes, chips, or cracks are repaired.
We remove any fixtures or hardware that is in contact with the areas to be refinished.
We thoroughly prep the entire surface to maximize longevity of the glaze.
We mask off all areas to protect from over spray.
We use a ventilation system to vent any fumes out of the house.
We apply 5 coats of glaze which is heat cured.
We then caulk as needed.
The Specialized Refinishing Advantage

Written Lifetime Warranty
We stand behind our tub refinishing work & offer the best warranty in the business.

Unlike remodeling, refinishing causes minimal disruption to your home.

Our durable, industrial-strength coatings make your refinished bathtub like new.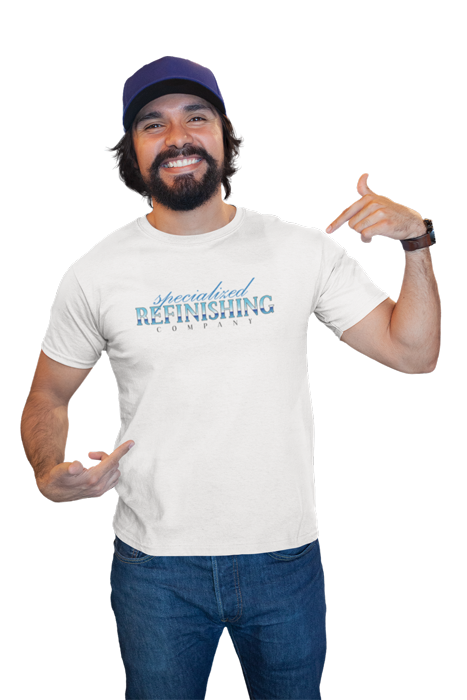 Most jobs are finished in 4 or 5 hours, not days or weeks.

We've provided expert refinishing services since 1994.

With decades of service & 1000's of happy customers, you can rely on us.