Get a Written
LIFETIME
Warranty
Restore Your Fiberglass Shower with Repair & Reglazing
Don't cover up a stained fiberglass shower or bathtub with an insert! You can make your tile or fiberglass shower like new with professional refinishing for a fraction of the cost.
Is It Time to Refinish Your Fiberglass Shower or Bathtub?
If you are tired of stained or grimy-looking fiberglass or gel coat shower, a full shower replacement used to be the only option. Fortunately, we can work with customers to restore the any fiberglass/Gelcoat bathroom fixture. Our experts can make sure your shower or bathtub can be repaired, restored, refinished, resurfaced, reglazed, and recolored on site without removal and in just a few hours! With a refinished shower, you'll go from hating the way your bathroom looks to loving it's restored and refreshed appearance.
Trust the Highest Rated Shower Refinishing Team
Repairing a Fiberglass Shower
Fiberglass is durable, but it's not foolproof, and even a bump from an elbow can knock a hole into your shower enclosure, leaving you wondering how this can be fixed. Fortunately, we can fix it fast with a gel coat and a simple refinish!
In the past, repairing a fiberglass shower meant a large, unattractive patch that wouldn't last or simply replacing the shower. Today, our experienced team can make a quick, effective repair that will blend in flawlessly with the rest of your shower while lasting as long as the rest of your shower!
For a fraction of the cost of a replacement, we professionally repair, restore, refinish, resurface, reglaze, and recolor your fiberglass shower or bathtub.
Why Choose Us for Fiberglass Shower or Tub Refinishing
At Specialized Refinishing, we believe in quality work and materials to get the job done correctly. We're so dedicated to this, we offer a lifetime warranty on everything we do! Our customers receive the best materials on the market and all of our employees are certified and complete a rigorous training program to repair, resurface, and reglaze all types of surfaces including:
Porcelain
Fiberglass
Ceramic
Laminate
Formica
Metals
Plastics
Wood
Our company is fully licensed, bonded, and insured. We also have an A+ BBB (Better Business Bureau) and Angie's List rating. If you would like references from previous customers, just let us know, and we'll be happy to put you in contact!
We are not the cheapest in town, but we offer the best value because our work stands up for years to come! You won't have to call for another patch or another resurface in a few months, and with proper care, our fiberglass shower refinishing can last for life!
The Specialized Refinishing Advantage

Written Lifetime Warranty
We stand behind our tub refinishing work & offer the best warranty in the business.

Unlike remodeling, refinishing causes minimal disruption to your home.

Our durable, industrial-strength coatings make your refinished bathtub like new.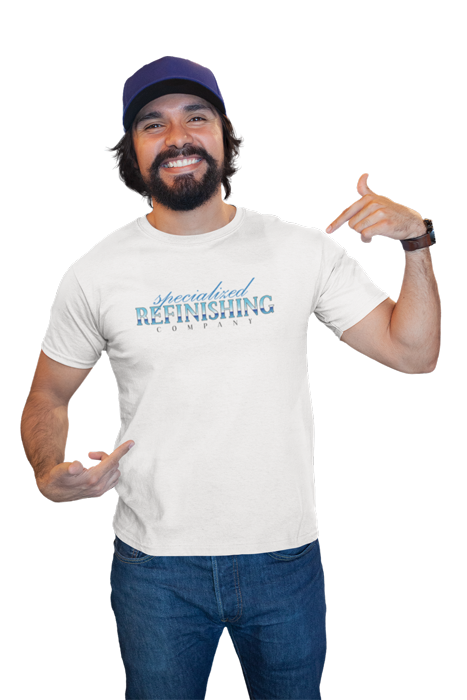 Most jobs are finished in 4 or 5 hours, not days or weeks.

We've provided expert refinishing services since 1994.

With decades of service & 1000's of happy customers, you can rely on us.