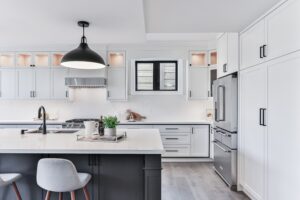 Kitchen Design Secrets
It's frequently been stated the center of the house is the kitchen. If true, then you have to make sure your kitchen looks very much appealing. So how would you turn your kitchen into a lovely and practical work space and a fine gathering place for the whole family?
Counters & Cupboards

Storage is certainly a factor in designing a practical kitchen. If floor space limits you, only look up. There's usually a lot of ceiling that simply is not being used in a kitchen and space between the countertops. Examine the space above the fridge. Is yours simply gathering debris or take out menus? If so, add treats or a cupboard and you have got a fantastic spot to stow infrequently used platters you would like to stay concealed from the kids.
Kitchen cabinets additionally do not need to be restricted to one side of the countertop. In case your kitchen layout has a peninsula or island, you may use back side and the ends for more cupboard storage space. But in case your financial plan is limited you do not need to replace kitchen for an entirely new appearance. Cabinet refacing lets you choose cupboard designs which are amazing and up to date. New countertops do not constantly have to be contained in this home improvement job either. Laminate countertops have repair strips which will give new life to a distressed surface.
Kitchen Layouts
Then now is the time to actually think about layouts and perhaps calling in some specialist in case your budget calls for an entire renovation. The fundamental theory is the fact that there ought to be no over 2 steps between work stations. Yet, with today's extra large sized kitchens that is not the case. You should select layouts that consider just how much time needed to carry through the standard jobs of getting foods from the fridge to the range or putting dishes away from the dishwasher. There are refrigerator drawers next to the range and microwaves while making your toast that brew your coffee!
Yet the cabinet hardware, light fixtures and the furnishings can make kitchens into living rooms. Search for job lighting that could emphasize beaming lighting for feeling and work spaces. You can also turn the legs of newel posts or old furniture into foundations for center islands kitchen furnishings combine together with the remainder of the home. Get creative and love doing considerably more than cooking in your own new kitchen.
On a tight budget for a total kitchen renovation? Why not have your damaged and outdated countertops and cabinets refinished? For a fraction of the cost of a replacement, you can have your countertop and cabinets repaired, resurfaced, reglazed, and recolored. Just call us here at Specialized Refinishing for the best kitchen countertop and cabinet refinishing in Raleigh!