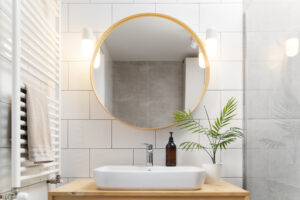 Refinishing old, damaged or out-of-date bathtubs and other plumbing fixtures, tile, and plastic laminate counter tops is the most economical and efficient way to revitalize your kitchen or bathroom, at a mere fraction of the cost of replacement. Replacement involves not only the cost of the new fixture, but also the time and money spent replacing the wall, tile, wallboard, tile floor, and subfloor, plus pipes and hardware which are damaged during the removal of the tub.
Refinish for Restoration, Remodel for Decoration
If your bathtub is cracked, the tile is stained, or the counter top is chipped, bath tub refinishing can make these bathroom fixtures look brand new. A revitalized laminate counter top, however, isn't going to have the look of stone, no matter how well it's polished. Permanently repairing those cracks in your fiberglass tub isn't going to make the shower feel like a spa without a new showerhead and/or a whirlpool tub.
Cary bathroom remodeling is great for completely overhauling a bathroom. If you buy a house for the layout but can't stand the look of the bathroom, you should probably choose a bathroom remodel.
Choose to Both Refinish and Remodel
Refinishing and remodeling are just words, not a black and white choice you need to make. There's no reason just can't repair some bathroom fixtures and replace others. Settling for repairing your bathtub can easily save you several thousand dollars that can be used for other areas of your bathroom or other home improvement projects. Choosing between new stone tile for either your floor or your countertop can save you another several hundred or thousands of dollars. Simply dealing with one old bathroom fixture may already save you enough money for new lighting design and installation, new paint, new shower curtain, and a heated towel rack.
Cost of Bathroom Refinishing vs. Remodeling
If you're looking solely at the numbers, chances are that deciding to refinish your bathroom will bring a greater return on your investment. It will make your bathroom look like new for a fraction of the cost. On the other hand, it's not an exact science. If you may be selling your home in the next 5 or 10 years, a home buyer may happen to fall in love with your bathroom and make you quite the offer. In general, though, the safest bet is to lean toward refinishing.
This, of course, refers only to the investment return. For many homeowners, the issue is far more personal than that. The greatest danger can be trying to convince yourself that you're okay with the bathroom fixtures you have now. If you end up hating your bathroom even after it's refinished, you're not going to have a lot of options.  That's why, if you're looking to save money and still have the home you want,  bathroom refinishing Cary is the choice for your family! Give [link id=10]Specialized Refinishing[/link] a call, today!