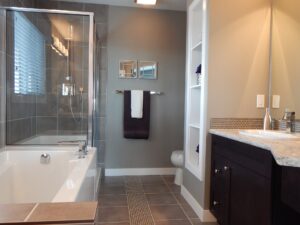 Does Bathroom Renovation Actually Increase Your Home Value?
Whether you are renovating to upgrade your home or to ready the home for resale, most people think about the return on their investment (ROI). Will the money you put into the house increase its value? Many homeowners decide to sell their home in a relatively short time (less than ten years from when they bought it). Everyone knows that the lack of maintenance lowers the value of a home, but what can you do to increase the value? Bathroom renovations do indeed increase the value of a home for two reasons — it improves the bathroom's functionality and aesthetics if appropriately tackled.
Is a Renovated Bathroom the Best Project?
That depends when considering a renovation; most homeowners look at projects with low upfront costs with high returns. By far, the most common house renovations that will guarantee high recoupment percentages are the kitchen and bathroom. Most bathroom renovations (the inexpensive approach) typically costs around $3,000 on a mid-sized bathroom. A complete renovation costs around $20,000 while a typical kitchen renovation ranges from $12,633 and $35,118, according to HomeAdvisor.com.
According to Remodeling Magazine's "Cost vs. Value Report for 2018" says that bathroom renovation projects have one of the highest ROI (as much as 70 to 80%), depending on the materials used. Bathroom renovation projects are indeed rated high by institutions, mainly due to these two reasons — low, upfront cost and high ROI.
Every house renovation will never recoup its expenses by 100%, but individual wise decisions can increase the percentage than otherwise would be the case. Here are some do's to follow in maximizing recoupment percentages:
New Paint
This straightforward approach can have a drastic impact on the overall look of the bathroom. Its purpose will serve its value by double if there is water-based damage or mildew present. Painting the bathroom is a great Do-It-Yourself project since most bathrooms are small and don't have high ceilings. Just choose a color to give the place a relaxing and soothing vibe – light blue, light purple, and clean white.
Vanity Upgrades
Consider upgrading the vanity if the budget permits. Updating the vanity can take a considerable percentage of the whole project, but it's a game-changer. It makes the bathroom unique. Select a marble or granite-like countertop for a more "classic" look as compared to tiles and laminate.
Replace Old Plumbing
If the home is old, new plumbing may be in order. New piping to avoid future leaks and modern sinks or toilets can be added if the finish is worn. With all the styles of fixtures available, select ones that go will match the overall look of the bathroom. If renovating for resale, stay away from trendy designs, stick with something classic and straightforward. Don't select something too unique; it may not have a broad appeal to buyers.
Bathtubs are another story. They are expensive to replace. Most of that expense comes from the labor of removing the old one and bringing in the new one. For tubs, it is often better to look at refinishing. Refinishing is less expensive and still gives the tub a "like-new" look plus the process takes one day.
For more information on bathroom renovations and the cost of refinishing, contact us today.