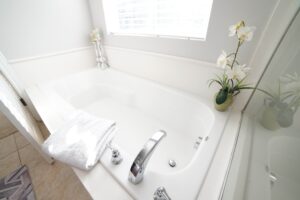 Does Your Bath Tub Need to be Refinished?
Refinishing not only helps to improve the appearance of an old or damaged bathtub but can also be a cost-effective and hygienic step to improve your bathing experience. Porcelain tubs tend to become dull, chipped and hard to clean after years of regular use. Use of cleaners that contain harsh chemicals also damages the finishing overtime. Bathtub refinishing helps to repair cracks and chips and also improve the overall look of the tub.
Refinishing vs Replacing the bathtub
Replacing the tub can be extremely expensive and unnecessary if the damage is minimal. In most cases, if you decide to replace the whole bath tub, you will have to cater for the cost of plumbing which can go up the roof if they decide to tamper with the structure of the bathroom. Bathtub replacement can also take a while so you will have to look for an alternative bathing space. Bathtub refinishing is almost always going to be the better option for you.
Improve your bathtub features
Refinishing can really help you to upgrade your bathtub and add some features that will boost your bathing experience. You can have bathroom contractors in Cary NC to install new fixtures that have a shiny and glossy finish. Leaving the tub with old fixtures can make it appear dull and boring even after the tub itself has been refinished.


Boost your safety
Bathtub refinishing can also protect you and your family from the dangers of lead poisoning. When refinishing is done, the contractors will ensure that the bathing area doesn't have unsafe levels of lead. Ask a trusted bathroom contractor to advise you on measures that can be taken to prevent lead poisoning. Get in touch with us here at [link id=10]Specialized Refinishing[/link].
Bathtub refinishing to enhance durability
Your porcelain bathtub can really last longer if refinishing is done properly. Through the process of refinishing the tub, chips and other forms of damage will be repaired making the tub look and function as good as new. A simple bathtub refinishing job can transform a bathtub that is impossible to clean and extend its life. So long as the tub is properly maintained, you can be assured that it will continue serving you and your family for a long time to come once the refinishing has been done by an expert.
When you finally decide to refinish your bathroom surfaces, look for the bath tub refinishing experts in Cary NC – [link id=1802]Contact us[/link]! Remember that if refinishing is not properly done the first time, you will end up spending a lot more money on a bathtub replacement.