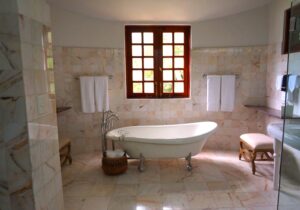 Bathroom Remodeling
When it comes to remodeling your bathroom, you could well find that the project is a lot cheaper than you think. In fact, some bathrooms cost as little as $1,000- but most will cost quite a bit more. The average cost to remodel a bathroom is about $9,000, but exactly how much you will pay can vary. There are a lot of different factors that you need to consider. To get you started, we've put together the following list.
Cost of Materials
By far the most significant factor that determines the price to remodel a bathroom is the materials that you'll need to get the job done. If you are entirely refitting the bathtub, sink, and toilet, as well as all the tiles and the flooring, then you can expect to pay between $8,000 and $10,000. Of course, there's a lot of choices out there when it comes to bathroom fittings, so you can always keep the costs in mind when making your selections. You should also bear in mind that any unique accessories will add a significant chunk on to the final price. For instance, if you need the bathroom to be handicapped-accessible, then it will probably cost you a couple of thousand extra.
Existing Layout
If you decide to remodel a bathroom, then you may want to switch up the design of the room, or even extend the bathroom a little. Naturally, this will affect the total price, especially if there's a lot of renovation. These might include changing the position of the walls, moving plumbing, or adding dividers to the room. On the other hand, if you keep these renovations to a minimum, then you can keep the cost of the project down, too.
Labor
Finally, unless you want to go through the hassle of remodeling a bathroom by yourself, you will also need to consider how much it is going to cost to get trained professionals to complete the job for you. Again, this is usually pricey, but it cannot be understated just how crucial it is to hire people who know what they are doing. By checking over the pipes and wiring carefully, contractors can ensure that your bathroom is completely safe- and the health of your family is worth a lot more to you than the money you would save by cutting corners.
The very best thing value you can get out of any service is from bathtub refinishing. For not much money, you can extent the lifespan of your tub greatly and have it looking fantastic again!
For more ideas when you want to remodel a bathroom [link id=1802]contact us[/link] at 919-747-4800.