Get your Bathtub Ready for some Nice Spring Baths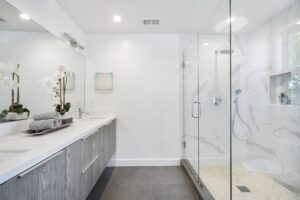 Designing a bathroom comes with a number of responsibilities. While many look at ensuring that this room is functional, they oversee the decorative aspect. These two factors must come together so that you enjoy your bath as much as possible. Every day in your tub should make you feel not just clean, but also relaxed and totally at peace.
It is easy to experience this feeling when you just finished installing it. Over time though, you may notice some faults. Sometimes, it is not about faults, but that designs are changing and that you need to keep up. Rather than constantly buying new tubs, bathtub refinishing services are perfect for giving you a whole need feel at budget prices. Refinishing services will give your whole bathroom a new look that will leave it feeling exciting and up to date. The surrounding environment plays a role in helping you to relax so you can easily turn your tub into a home spa.
Getting Ready for a Nice Spring Bath
Bath's used to be the most common method of cleaning ourselves, but these days showers are definitely far more popular and common. Baths have become something more of a luxury now, something you do with the intentions of relaxing. Here's some things you can do to make it as relaxing as possible.
Gather Your Essentials
This step will vary from one person to another but it will include a nice scented bath soap, essential oil, and some candles. When picking essential oils, adding a scented oil (rose or lavender) will help you to relax mentally and leave you smelling fantastic for a while!
Right Temperature
A nice spring bath will require some warm water. Cold water can be uncomfortable and hot water is non-soothing. Ensuring it is the right temperature also keeps your body cool, it's easier than you may think to get overheated or very cold from sitting in water.
Soothing & Relaxing Music
Put on some nice and soothing music to help you relax. Avoid the loud categories of music. Let it be relaxing and calming.
Dim Lights or Candles
If your lighting fixtures allow you to dim or brighten your lights, dim them to leave a cooling effect. This will also prevent anything in the surrounding from capturing your attention thus allowing you to focus on just relaxing.
Tie Your Hair up & Use a Face Mask
For those with long hair, use a towel to tie it up so that it does not get in the way. Even better, put on a face mask before having your bath, then you can really lay back and let it do it's thing and relax.
Enjoy Your Bath
Get right in once it is the right temperature, before anything, lean back, and just let lose. Free your mind and body and let the warm, soapy, and bubbly water clean you up. Don't sit there and worry about anything, just let it all be.
Conclusion
With the above tips, you can truly enjoy your baths to their full potential. If your bathtub is in disrepair, ugly, or you just want something new, we really recommend you check out our bathtub resurfacing services.