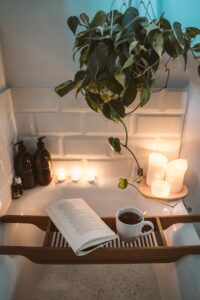 If handled smartly, bathroom refinishing tasks can be completed without costing massive amounts of money. The tips mentioned in this article will be of great assistance for those who intend to get their bathroom refinishing done on a budget.
Overhaul of the Fixtures
Replacement of bathroom fixtures is costly. However, it is possible to reduce this cost significantly by applying a coat of glaze on the cast iron fixtures that already exist. Bathtub refinishing can be done as a DIY or have the professionals handle it. Before the application of glaze, it is essential to ensure the fixture functions correctly.
Match Colors
For a great finished look, the fixtures in the bathroom should be coordinated with the wall colors. Sometimes, you can bring a considerable change to the bathroom just by replacing a couple of affordable accessories with matching colors (shower curtains, power outlet sockets, and light fixtures are some examples). A nice touch of fresh paint combined with a couple of matching accessories can make a notable difference indeed.
Tiled Countertop
Tiles are among the most affordable options when it comes to countertops. Compared to the stone countertops, tiles are more resistant to water in addition to their affordability. Moreover, less effort and experience is required to lay tiles; it can be done as a DIY task (reducing the cost of labor).
Paint Floor
Reapplication of floor paint is a very effective way to complete a bathroom refinishing task successfully. It is important to make sure that the floor paint matches the bath and other existing expensive appliances seamlessly.
Customized Wallcovering
A customized wallcovering is a very innovative and incredibly affordable way to consider when it comes to bathroom refinishing. A wall treatment can be made using old magazines; use some adhesives to paste the magazine papers. Once the pages are affixed to the wall, apply a waterproof clear-coat. This technique is fun and exceptionally affordable way.
Bright Color Tiles
Brighter floor tiles can add more vibrancy to the bath at a significantly lower cost. However, it is always important to keep in mind that there should be a seamless coordination with the other fixtures and accessories in the room. We can replace and refinish any of your wall and floor tiles as well, adding tons of life and color to the room!
Frame the Mirror
A framed mirror can enhance the entire look of the bathroom substantially. Usually, a wooden-like frame adds more glamour to a bath; a variety of options are available at home improvement and home decor retail stores at very affordable prices. A frame can also be added to a large wall mirror using wood molding.
For information in Greensboro for bathroom refinishing,[link id=1802]Contact us[/link] at 919-747-4800.