What Bathtub Material is Best For Me?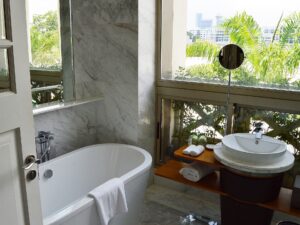 Whether you are investing in a new home or doing home remodeling, finding the right bathtub material that works for you can be a brilliant idea. However, knowing the best bathtub material for you can be a real hassle. Here's some ideas and inspirations about finding the right material for your bathtub refinishing.
How To Know What Bathtub Material Is Best For You
There are different types of bathtub materials available today. We've got ceramic, porcelain, fiberglass, metal, wood, plastic, Formica, grout and laminate among others. All these materials are great for bathtub(s), but they are all suitable for different applications. Not everything that works for your neighbor will work for you. That's why you need to consult Specialist Refinishing for expert bathtub refinishing Raleigh.
Whether you are dealing with an outdated color bathtub, a cracked, chipped, rusted or stained bathtub or simply an old antique that needs a new look, you need Specialized Refinishing bathtub professionals experts to repair, restore, refinish, resurface, recolor and reglaze your bathtub(s). The experts will also guide you into finding the best material for your space. But knowing the strengths and weaknesses of each material helps you make informed decision.
Why Is It Important To Know The Differences?
Different bathtub materials have differences in terms of installation, price, cleaning and maintenance. So, choose one that works for your lifestyle. Different sizes, types, and materials are going to appeal completely differently to everyone.
Fiberglass Bathtub
Fiberglass bathtub(s) are lighter allows for molded shapes, making it look more decorative and attractive. While compared to porcelain, fiberglass is way much cheaper because of their less production cost. Due to their lightweight, shipping cost is minimal and that's why they are generally cheaper. Due its lightweight, installation is less complex since fiberglass can be easily lifted around over other fixtures in the bathroom.
Fiberglass bathtubs are more delicate and selective when it comes to the choice of detergents. They are also very challenging to keep clean because they cannot withstand scratching with abrasives. However, maintaining fiberglass is less demanding since the material can withstand exposure to dampness and can hold long after a leak.
Fiberglass bathtub(s) are however suitable for families working on a limited space tight budget and still want to make their house look more attractive. They are also a perfect solution for individuals busy families since the material can withstand exposure to dampness.
Porcelain Bathtub
Porcelain bathtub(s) are heavy and more expensive. The time taken to manufacture porcelain bathtub(s) is more compared to fiberglass and the production cost is also high. Porcelain coated iron is heavy and cumbersome and the installation process is quite complicated especially when working on a tight space. In most instances, it requires the sinks, toilets and vanities located between the installation site and the bathroom door.
Porcelain bathtubs are handy and not delicate when it comes to cleaning. Even harsh detergents can be used without affecting the material. They are therefore suitable for traditional iron-coated bathtubs requires a lot of care to maintain. Exposure to lots of dampness leads to rusting which if not properly managed may call for frequent replacements. Porcelain bathtubs are suitable for people whose budget can meet the cost of buying and installing the tub. Bigger and busy families with kids also prefer porcelain bathtubs since they can withstand scrubbing and use of abrasives to keep clean.
Bathtub Refinishing For You
Need bathtub refinishing Raleigh? [link id=1802]Contact us[/link] now for deeper details on the best bathtub material that works for you.