How Long Does a Refinished Tub Last?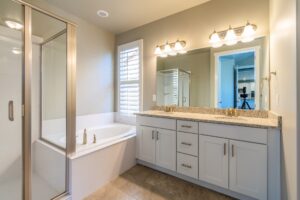 The tub is the one of the few places at your home you can always go to relax, whether you;re just laying there or reading a good book with a glass of wine. The last thing you want to do is to look at, let alone spend time in a dingy, cracked, and drab-looking tub. At this point you may be wondering whether it would be cheaper to buy a new one or refinish your old one to its former glory because you're just tired of not having a tub you feel like you can use.
Replacing a dated bathtub with a new model is appealing, but it may not always be the best move for you financially. For starters, before a new tub is installed, repairing the trim, flooring, plumbing, or lighting might be necessary, not to mention, modern baths aren't cheap plus you also need to budget for labor and disposal costs.
Don't Always go Straight for a New Tub
With all the mentioned costs in mind, it looks like a bathtub refinishing project may save you time and money with results just as good. The good news is that whether you have an antique claw-foot tub made from heavy-duty cast iron or an acrylic type, it can be reglazed. The bathtub refinishing process involves a thorough scrub of the entire surface of the unit first, followed by filling in any worn areas and cracks. Before the tub is sealed and buffed, several coats of primer and paint are applied to further protect it from ever peeling, chipping, and flaking against peeling in the future.
Reglazing is an economical way to rejuvenate an old bathtub, and when correctly done, a refinished bathtub can look just like new and function like new for years to come. Reglazing a bathtub has its rewards. It requires a day of stripping off the old glaze using hydrofluoric acid to get rid of any scratches, chips, and stains. Depending on the damage, a bathtub refinisher will then apply a few coats of fast-drying epoxy to ensure it adheres appropriately, then completes the process with a topcoat that is polished to a high gloss shine.
Quick Painless Process
How long a glaze will last depends on a number of factors like the quality of the refinishing agent, the workmanship, and many more small factors. Professional bathtub refinishing has been shown to last much longer because reglazers often offer warranties that typically range between five to 10 years, even longer because they use a specialized coating that is classified as permanent and warrantied to last at least 20 years. This isn't really something you want to DIY unless you do happen to be very knowledgeable.
A reglazed bathtub will require proper care, which means, you should never use bleach, steel wool, or abrasive cleaners to clean the tub because they will damage the coating. Using a nonabrasive urethane polish, in this case, will prevent scratches, chips, and discoloration. Just use your best common sense and your tub should last for 10+ years easy!