What You Need To Know About Bathtub Refinishing for Older Homes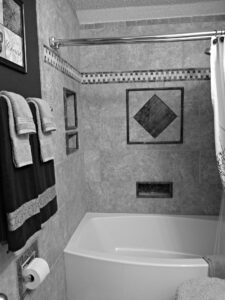 Refinishing might be the best way to restore your bathtub if you feel that it has seen much better days. However, if you find yourself lucky enough to come into ownership of a cast-iron sink or a removable claw-foot tub, you'll probably want to look into getting that refinished! Then the look can keep up with the durability of your old tub!
Older homes, particularly those that were built before 1978, usually contain lead-based paint and most people know this is not so good for human health so they paint over it with some non-lead based paint. However, one little known fact for homeowners is that the bathtub probably also contains a significant amount of lead if you live in an older home. Lead exposure from your bathtub is something to look out for, especially if you're washing kids in the tub for instance. Lead is typically found in old bathtubs, more so in the porcelain that makes up the tub. The worst part is that if your tub is worn out, you will experience higher levels of lead exposure as more is able to escape out into the water. When you identify lead leaching in your bathtub, your immediate and next course of action should be to protect your family with a professional bathtub refinisher in Cary NC. This will encapsulate the lead in your bathtub and prevent the leaching lead from ever getting close to any of your family members!
Even Your Super Old Tub!
Bathtub refinishing in Cary NC is highly effective and low-cost when compared to replacing the bathtub. In order to replace your existing bathtub, you'll have to cut it for it to fit through your bathroom door not to mention you will have to remove and replace the plumbing, surrounds, trim, and flooring. Even though a new tub might cost you as little as a few hundred dollars, the labor expenses for replacing it can be very high just because of the long arduous process.
The cost of refinishing your bathtub will usually depend on the difficulty of the process and the area but it should not have you breaking the bank. A trained professional is capable of fixing your old bathtub and re-coating it even if it has serious cracks and stains to give you a brand new looking bathtub. You can have your shower stall, fiberglass tub, steel, or cast-iron tub all re-coated in a brand new color or re-coated to look like the original finish. Bathtub refinishing is ideal for very old tubs, which are usually made from higher-quality materials than modern tubs, not to mention the character they bring to the table!
The technician will strip the old finish off and sand the tub creating a totally smooth surface
Rust spots, chips, cracks, or holes are repaired
Finally, a primer is applied followed by multiple coating layers and a sealant. You will be able to use the bathtub again after one to three days but the finish should be able to last you at least 10 to 15 years.
You are better off leaving this work to a trained contractor even if there are DIY kits available because they give you the best products AND services. The end result will be not only a good looking tub, but a more functional one!
[link id=1802]Contact us[/link] and your cabinets will be looking like new. Call 919-747-4800.