Benefits of Getting Your Bathtub Refinished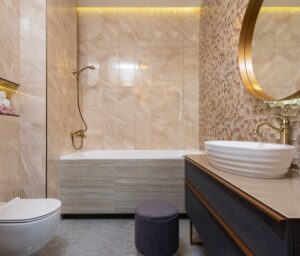 If your bathtub is old, damaged or chipped, you may be considering getting a new one. Well, i'll stop you right there! Buying a brand new bathtub can end up being a huge expense for your home, one that you shouldn't take on unless you truly have to. Let's take a look of some of the benefits of refinishing your bathtub.
Cheaper than buying a new one
Nobody minds saving a buck where possible and choosing to refinish your bathtub will cost you less than buying a new one. Replacing a bathtub doesn't just include buying one, you also have to consider the cost of having plumbing work done (maybe even having to replace old plumbing) and the cost of moving the tub itself.
Helps protect old tubs against lead
Most porcelain tubs that were made before the year 1984 are likely to contain lead in very high, unsafe levels. This can be a major concern for your health and that of your family. While refinishing the bathtub, it can be encapsulated to ensure that lead doesn't cause any harm to you or a family member.
Refinishing is eco-friendly
People all over the world are putting extra effort to go green. Refinishing your bath tub is a great way of taking an active role in reducing your carbon footprint. Buying a new tub means that your old one will probably end up in a landfill and that will only negatively affect the environment. I don't know about you but I've never seen a bathtub naturally degrade. So why not save some money and make the world a better place to live at the same time.
Gives your bathtub a longer lease on life
Refinishing your bathtub can add up to 15 years to its life as long as you're mindful not to use abrasive cleaners, bathmats or scrubbing pads which all allow extra grime to get in and speed up the aging process for your bath tub.
The Best Refinishing Company
Looking for a trustworthy, competent refinishing company? Well, if you live within the Cary NC/Triangle area, Specialized Refinishing is your best bet. They specialize in repairing, refinishing, restoring, re-glazing, resurfacing, and recoloring services for not just bathtubs but all other kinds of surfaces including fiberglass, porcelain, grout, ceramic, formic metals, laminate, wood, and plastics.
When it comes to bath tub refinishing, they specialize in all types of bathtubs including cast iron tubs, pedestal tubs, and clawfoot tubs. Beyond bath tubs they also specialized in refinishing sinks, showers, grout, ceramic tile, vanity tops, cabinets, countertops, and antique furniture.
Specialized Refinishing is guaranteed to restore beauty and luster into any fixture using a refined process. You end up with a waterproof, glossy, and highly durable finish that will serve you for a long time to come.
Worried about quality of service? Then do not fret because Specialized Refinishing Company is fully license, insured, and bonded. With A+ and five star ratings on Google, BBB, Angie's List and Facebook. If you would like to talk to a previous customer or get references, Specialized Refinishing Company are always more than happy to get you in touch with them. Contact them today through their site  for more information! If you're interested in learning about the entire bathroom refinishing process, check out this post about remodeling a bathroom!
For more ideas when you want to remodel your bathroom, contact us today.