Is It Even Worth Getting Your Tub Refinished?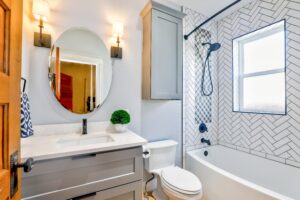 Your bathtub has probably seen better days and it is starting to really show it, so how do you decide whether it is time to get a new one or simply refinish your old one? A house is usually built around the bathtubs in it and the cost of replacing it is a lot higher when other things are factored in. Replacing your bathtub has quite a few hidden expenses and you may end up wishing you had just called for bathtub repair services instead.
Call the bathtub repair pros in Greensboro NC at Specialized Refinishing if you feel like your bathtub has an outdated color, is hard to clean, stained, scratched, cracked, or chipped. A full replacement used to be the most common option before, but specialized refinishing on-site is a preferable option. Not to mention bathtub repair services in Greensboro can repair, restore, refinish, resurface, re-glaze, and recolor your bathtub in just a few hours without the need to take the tub off-site. If you need Greensboro bath tub refinishing, we've got you covered.
Why YOU Need a Pro
Professional bathtub repair and refinishing services are such a great option because you can get the colors matched to suit your expectations. If you are looking to match the color of your bathtub to the other accents in your bathroom such as the sink then professional bathtub repair services in Greensboro can match the colors expertly to give you the bathroom makeover you never knew you needed but always wanted. Bathtub refinishing is also a great option because it will fit perfectly regardless of the space or shape available. Your tub is already there so you do not need to worry about any surprises. You can get professional bathtub repair, restoration, refinishing, recoloring, and re-glazing services for a mere fraction of what it would cost you to replace the whole thing.
When it comes to bathtub repair or refinishing the quality of the service provided will vary depending on the company. Failure to prepare the bathtub properly will produce unfavorable results. The cost also depends but a majority of homeowners claim to have paid around $250-$350 for their bathtub refinishing but usually, some of these homeowners will complain about poor quality work. If you want a high-quality bathtub repair or refinishing service, then you may need to spend a bit more than those figures.
Go For Refinishing!
A refinished bathtub is equally as durable as a brand new bathtub. If it is maintained properly, the refinished bathtub can last as long as 20 years.
A professionally refinished bathtub will feel, look, and clean as if it is brand new so you need to only use non-abrasive and mild cleaning products devoid of bleach. Bleach or abrasive cleaners can damage or dull the shine or finish and you could end up back at square one.
We use only the best materials and for our clients and you can also get a warranty for the work done. Our employees are all expertly and rigorously trained and they have the proper certification to conduct bathtub refinishing services an all surfaces including wood, plastics, metals, Formica, laminate, grout, ceramic, fiberglass, and porcelain. We are insured, bonded, and licensed. We can provide you with previous clients if you want to speak to them or if you would like references. Contact Specialized Refinishing for any of your bathroom of bathtub needs!
For more ideas when you want to remodel your bathroom, contact us today.