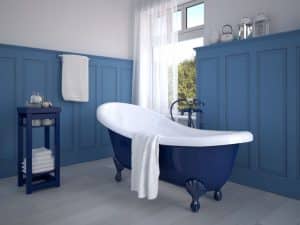 Your bathtub dramatically influences the first impression and appearance of your bathroom. Unfortunately, rust, stains, and soap scum on your tub can be a blemish, and no matter how much you scrub and clean- the bathroom will always look less than pristine. But you don't have to give up on the idea of a clean-looking tub. And you don't need to consider the costly and disruptive process of replacing your bathtub either. With a quick, professional, and efficient bathtub refinishing process, your existing tub can return to a clean, pristine, and showroom-worthy state in less than 24 hours.
What Causes Bathtub Stains?
The primary cause of bathtub stains is the wearing down of the layers of primer and paint by the minerals in tap water. Other contributing factors include rust, mold, soap scum, hair dye stains, and other toiletry products.
How Can You Avoid Bathtub Stains?
The easiest way to stop the build-up of stains on your existing bathtub is to rinse the tub after every use. In addition, you should clean the tub often to make sure that you limit the build-up of scum which can be hard to remove once it has dried and settled. You also need to deal with mold as soon as you spot it to avoid spreading. But what if you already regularly clean, rinse, and scrub your bathtub with an abrasive cleaner? What if you can't get rid of unsightly stains? Well, then it may be time to turn to the professionals.
How Do You Get Rid of Stubborn Bathtub Stains Properly?
For a long-term solution to the stains on your bathtub, you could turn to a professional bathtub refinisher who will solve the issue quickly. Bathtub refinishers expertly apply specialty primer and paint to the tub surface, leaving your bathtub looking brand new again.
Is Bathtub Refinishing Worth it?
Bathroom refinishing is the most cost and time-effective way to refurbish your bathtub. So, if you are looking for an affordable and quick alternative to actual tub replacement, bathtub reglazing may be your best bet.
Whether you have a white or colored tub, it can be refinished – you can even choose to change the color. In addition, refinishing can bring your tub up to date with your more recent decor or bathroom remodel.
What are the Benefits of Bathtub Refinishing?
An affordable option for the removal of a variety of stains on your tub.
A quick and non-disruptive process that will cause minimal fuss to your home.
An expertly refinished tub can be restored to the appearance of a brand-new bath
Avoid the disruption involved with full-on bathtub replacement.
Increase the longevity of your bathtub by adding on an extra protective layer.
Specialized Refinishing
Does your bathtub need a facelift? Then, bathtub refinishing may be for you. The Specialized Refinishing team can help you reclaim your bathroom from the spots and stains blighting your bathtub quickly, efficiently, and at an affordable price. Contact us at 919-568-1175 today to discover how we can help you improve your bathroom's appearance.