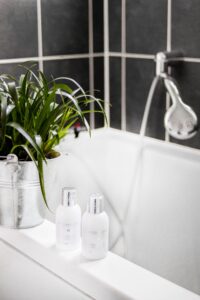 How Do I Make My Tub into a Shower?
If you don't do it right, converting a tub into a shower can be more costly than you can ever imagine. Here are the essential things you must remember when turning an existing tub into a shower.
If it is the only tub, leave it as it is
If you have only one bathtub in the house, you shouldn't convert it into a shower. As per the expert real-estate agents, you will find it pretty tricky to get a good deal when you sell a house that doesn't have a bathtub. In fact, tubs are handy for families that have kids.
Alcove tub is easily converted into shower
Usually, an alcove tub can be transformed into a shower with less effort and cost. Alcove tubs, when removed, leave an easy-to-modify space with ideal depth and width. Even the drain lines and water supply will be in place making it simple for the conversion work to take place. Also, there are plenty of affordable shower stall kits on the market to fit such spaces. The overall cost will be significantly lower in that case.
Avoid tubs by windows
Installing a shower by a window is not highly recommended. Unlike a bathtub, a shower may splatter water drops around. And, once the drops of water penetrate through the openings of the window casing, things can be pretty annoying; the wall will become wet all the time and mold will start to grow.
Pay attention to the size
It is always better to adhere to the standard sizes when converting your tub into a shower. 36″ X 36″ is the standard size and as per the general regulations, a shower should have 30″ X 30″ stall at the least.
Plan the shower floor wisely
You can either go for a curbless shower or a curbed shower floor. The amount you will have to spend will depend on the style you select. A curbed shower floor is capable of retaining the water in place; however, the costs can be slightly higher. Curbless showers, on the other hand, are more comfortable to use even by the senior people.
While you carry out demolition work, you should probably inspect the area for potential rots, gathered mold and any other repair work. The replacements of valves, pipes and other fixtures must be done after a thorough inspection.
IF you're just looking to get your tub looking like new again, bath tub refinishing is the best route for you to go. If just the tiles in your bathroom need a touch up, we can also do wall and floor tile refinishing for you!
For more information, contact [link id=10]Specialized Refinishing[/link] at [phone].