Bathtub Repair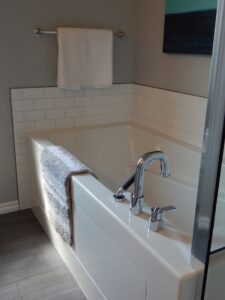 Are you living around Cary, NC and looking to have your bathtub repaired or refinished? The average tub repair has to do with one of the following things:
Unattractive Color
Rusted, Stained, Cracked, or Chipped
Looks Dated
You might have thought about re-modeling the entire bathroom but the cost of doing it may not be favorable to your budget. Specialized Refinishing has got you covered with its cheaper alternative of repairing and refinishing our bathtub to make yours appear like new! Repairing a bathtub has numerous benefits over to reinstalling it. This read will help you understand the advantage of bathtub repair.
Merits of Refinishing Your Bathtub
Cost-effective-Reinstalling a new bathtub will be very expensive, no doubt about that. This is because you will have to purchase a finished product from a reliable dealer, then you will have to pay for the installation. The installation process will cause a lot of damage to the surrounding areas of the bathtub in the bathroom because the tub will have to be detached so that the new one fits properly and creates a watertight seal. This will require you to fix the surrounding area after you get it installed, which will make you incur additional costs for the clean-up process. So, long story short, replacing your tub is going to cost you a pretty penny no matter what. Don't jump into that lightly!
Customizable-You will be able to customize the entire repair and refinishing process to fit your specifications. The company prides itself in re-coloring, regaling, resurfacing, refinishing, restoring, and bathtub repair. This means that you will have more variety of textures and colors to choose from as opposed to settling for a particular texture and color if you can't find the exact color of prefabricated tub that you want. Additionally, if you feel like altering the color and texture of the future, you will be able to do so easily.
Time efficient- You will not have to do any messy clean up in the area since the bathtub will be repaired while it is still in its original position. If anything, you'll need a simple sweeping of the floor!
Attractive and durable- The bathtub repair company will offer you a full warranty that allows you to get repairs done at no extra cost. The tub will have a gloss and will be more durable since the materials and processes used to repair it are quite durable.
Faster and easier to clean up- This is because the bathtub repair in Cary NC will cause minimal damage to your bathroom. Thus, you will not have to worry about reconstructing the area around the bathtub to mask the damage.
Convenient and easier- The repair process is short and the bathtub will be ready for use within a day or a few hours after the refinishing. On the other hand, when it comes to reinstallation of the bathtub you might need to take a couple of weeks off it because of the lengthy reinstallation process and the clean-up process after it is fitted. The last thing anyone wants is to be without a bathroom for a few weeks, what an inconvenience!
Specialized Refinishing based in Raleigh, North Carolina, deals with this and so much more. For more information on this, visit their website or give them a call!
For more ideas when you want to remodel a bathroom, contact us at 919-747-4800.