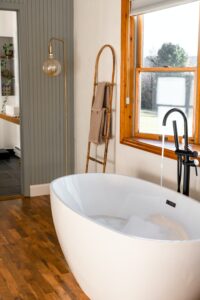 Restore Your Old Bathtub to its Former Glory!
An old and stained bathtub can definitely take all the fun out of having a relaxing bath; it actually makes your bathroom a dreaded part of the house. As your bath tub ages it becomes more difficult to clean the bathtub stains using regular cleaning methods because of the damage to the bathtub finishing. Scrubbing and bleaching will no longer work; bringing you to the decision of what to do to restore the refreshing look of your bathroom. Replacing an entire bathtub can be a lot of work and expensive too. You should really consider refinishing your bathtub.
Reglazing is the process of stripping the old finishing of the bathtub and replacing it with a new one to restore its appearance and quality finishing. During reglazing, the bathtub will be sanded down to the bare tub material and a new coat of primer, paint and finishing will be added on. The new finishing can be done in the same color or even a completely different design to switch up the look of your bathroom. Bathtub reglazing usually takes about two to three days to complete.
Refinishing IS a Lasting Fix
Bathtub reglazing is a great idea when you think about the cost of replacing your bathtub. Bathtub replacement costs more than just buying a new tub. When the old tub is being removed, they will have to strip up all the tiles or flooring around the bathtub. The plumbing fixtures will have to change too and it will take more than just a couple of days for the entire process. The cost of materials and labor for the entire process can be quite high. Bathtub reglazing can be done by only one person in two to three days and there is no need to change the flooring or plumbing pipes too.
The reglazing process is not just limited to your bathtub. You can also refinish all the tiles in your bathroom to give it a whole new look. The cost of reglazing is a lot cheaper because less labor is involved and the reglazing materials are relatively affordable.
The reglazing process can make your bathtub look as good as a new one. You get the same new and improved bathroom experience by reglazing as you would if you replaced the tub but just at a fraction of the cost.
Avoid the DIY reglazing kits if you want a quality-refinished bathtub that will last for years to come. It is best to leave the bath tub refinishing Cary work to the professionals. The quality of the workmanship goes a long way towards the value you get.