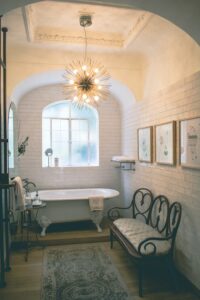 Even Your Antique Tub Can Be Refinished
Vintage clawfoot tubs are timeless. Mirroring the Victorian Era, they create a traditional and authentic atmosphere. They're original and associated with luxury, making any bathroom picturesque. However, old fixtures can have complications. Perhaps the enamel is chipped and discolored, or the floor is caked in gunk. Maybe the tub is dated from the Thirties and Forties, likely containing lead in the glaze. Are these works of art worth saving? Absolutely.
Replacing a bathtub can be counterproductive and strenuous. Tubs are the foundation of any bathroom and bathrooms are constructed around them. The plumbing and general layout are centered around the tub. When removing a bathtub, the plumbing has to be reassembled to accommodate the new one, and the trimming replaced. One may have to break or cut into the tub to move it through the door frame. Removing a tub can take a lot of time and manual labor plus cause damage to existing bathroom tile. Installation expenses can increase due to the plumbing required to accommodate the positioning of the new tub. Bath tub refinishing services are almost always going to be your best bet.
As long as the condition is good, most tubs can be refinished!
Clawfoot tubs cost from $995 to two grand, depending on the quality. Replacing the tub entirely can cost up to four grand. Additionally, there's the trim and plumbing expenses, not to mention the stress that accompanies this project. Most waste disposal companies won't pick up an old bathtub so consider having to haul the tub (or several pieces of it) to a landfill or a recycling center that accepts porcelain. When removing an old tub, it's good to note that they are hefty, weighing between 200 to 400 lbs. Hiring someone to transport is necessary or at least some friends and a truck.
Bath tub refinishing can cost a few hundred dollars to one thousand, typically averaging around $450. The bathtub would be usable within a couple of days, which is much more convenient than doing the project, then having to wait for a plumber. Plumbers can quote outrageous prices and be unavailable for extended periods of time. There can also be unforeseen delays, finishes, and fees.
Refinishing a tub involves removing the old finish, patching cracks, and applying a new coating. The products used by [link id=10]Specialized Refinishing[/link] are top quality come with a lifetime guarantee. Make that clawfoot bathtub the focal point of the bathroom by having it refinished. [link id=1802]Contact us[/link] today for an estimate at [phone].