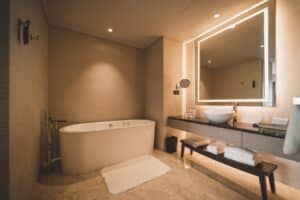 Why Bathtub Refinishing is Great for Hotels
Almost all hotels have bathtubs. With the number of people who stay in a hotel room, tubs get a lot of use. It is more wear-and-tear than a tub was meant to have. Let's take a look at why bathtub refinishing is an excellent idea for hotels.
Better Visual Appeal
The hotel room's visual appeal is one of the most significant factors in getting and keeping business. As one of the most prominent fixtures in your hotel bathrooms, the tub plays a substantial role in the appearance. No one will want to stay in a hotel room with a tub that has a damaged finish. However, a shiny new finish makes the tub far more appealing.
Affordable Way To Refresh Bathrooms
Hotels see a lot of patrons, but it is still essential to keep costs low to maximize profit. Bathtub refinishing is a great way to keep the costs low while maintaining the appearance of pristine bathrooms. Refinishing a tub gives a great return on investment.
Save On Construction Costs
Renewing, renovating, or otherwise working on a hotel can be costly. Instead of replacing the bathtubs, keep them and refinish them. A bathtub refinishing makes the tubs look like new. This process will cut the cost of updating the bathroom significantly. Bathroom sinks can also be refinished.
Better Reviews
One of the most frequent comments in hotel reviews is the quality of hotel bathrooms. The worse a bathtub appears, the more likely someone is to assume it is dirty, even if it is clean and the finish is just old. Bathtub refinishing is a great way to give hotel baths a new shine.
The process of bathtub refinishing is relatively simple. The top layer of the tub wears down as time goes on, and a professional replaces that top layer. It is best to have an expert perform the task.
For more information on bathtub refinishing, [link id=1802]Contact us[/link] at [phone].