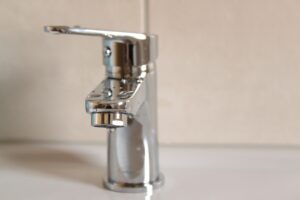 Older homes, generally, are cheaper to purchase than newer homes. Prices can vary, of course, such as in the case of historical or very large houses. Still, older homes tend to sell for less. This lower price is because those homes often have issues and code problems that need to be addressed before, during, or after purchase. Updating an older home on a budget can be tricky due to those issues. But, you can find lower-priced options with some research and patience, whether it's bathtub reglazing, tile refinishing, or replacement countertops.
First and foremost, when planning a renovation is to survey the house and make a list of what needs to be updated. Then prioritize the projects. While repairs due to damage are essential, next comes the matter of updating codes and then changes in style or color. For example, replacing broken toilets or cracked countertops is necessary. Changing paint color or wallpaper, which fall in and out of fashion every few years, is less critical.
Changes on a Budget
Walls
Generally, the first thing people think of updating when they move in is the walls. However, as noted, wallpaper styles come and go. Since wallpaper can be challenging to remove, it's not uncommon for it to just stay on the walls or be covered over with another wallpaper or paint. So, while a complete overhaul might be a bit much – an inexpensive update of the walls is possible.
On the other hand, it's not very expensive to change the color of painted walls. So, while new toilets or counters can eat into a budget, repainting can be done reasonably. The trick is to think outside the box. For example, leftover paint from previous home-building projects can be found at a discount at many home improvement stores. Also, so-called "oops" colors (incorrectly mixed paint) can be found cheaply in the paint department in hardware stores.
Tile
The same is also true for tiles. Ceramic tiles aren't that expensive to start, and finding leftovers from other completed jobs can save money. The tiles might not all match, sure, but a mixed look can give some rooms a fun, vibrant look that will let the home stand out from others.
Refinishing/Refacing
Refinishing is often considered a cheap way to make older surfaces look new without purchasing expensive new pieces. Some surfaces can be refinished, but not all, so do some research before committing. Generally, solid wooden furniture can be refinished, while pieces using veneer or plywood cannot. As for countertops, consider calling a contractor to ensure the job is done right. It is one thing to stain an accent table but quite another when it comes to refinishing a countertop or bathtub reglazing.
Some people may think it's cheaper to do such work themselves, but it's essential to do some math to keep everything within the budget. For example, the costs of a DIY project versus hiring refinishing or similar services need to be calculated, as well as shopping around for quotes from various companies to ensure the best price possible. Also, remember to calculate the time to complete the project. It is one thing to hire someone to do the work in a few days or weeks, and quite another to have to do all the work oneself in their spare time.
Fixtures
When it comes to older fixtures, people might be tempted to replace or resurface them. This option isn't always ideal, though. Like furniture, some surfaces can't be easily refinished but can be cleaned. The cleaned and polished older fixtures can add a classy, antique, and eclectic look to a bathroom or kitchen. Working around such parts of the home is part of budget updating, too.
Decorative Accents
As for adding decorative accents to rooms, instead of buying new large pieces with the desired features, sometimes it's cheaper to purchase updated odds and ends and use them along with the original furniture or appliances. For example, instead of buying a new couch, restuff the seating cushions and add colorful accent pillows to give it a fresh look. Another example of this, in the kitchen, an old butcher block table can be used as a work surface instead of constructing an island.
Do Some Research
Research is vital for cleaning and refinishing items in an older home. Furniture and older fixtures can be more delicate than they look. The wrong cleaning method or chemical can damage them, requiring potentially costly replacement or a result the homeowner was trying to avoid. Sometimes, though, refinishing a worn piece of furniture can rescue it, saving money in the long run by avoiding a costly replacement. As for the walls, sometimes it's best not to dig too deep, at least not as long as everything is still up to code and safe.
Updating a home on a budget might seem complicated. With research and care, though, an older home can be transformed into a beautiful new home, where the old and new work together to create a cozy, comfortable living space that doesn't break the bank.
Specialized Refinishing
Are you planning on updating your older home? Specialized Refinishing can help. Our teams include bathtub reglazing, tile resurfacing, and countertop refinishing experts. We can quickly get the job done, and you can start enjoying your newly upgraded home. Contact us at 919-568-1175.