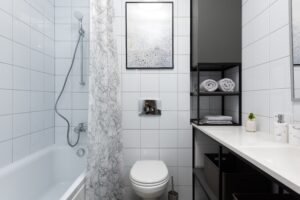 Acrylic VS Fiberglass Showers
There are plenty of advantages to acrylic and fiberglass showers that make them an excellent choice for those who want to refurbish their bathroom without breaking the bank. Much more affordable than stone and ceramic, they also have the added advantage of not needing to be sealed or grouted- so they're a low-maintenance solution. However, acrylic and fiberglass showers each have their fundamental differences- and this article will help you to decide which one is the right choice for you.
Firstly, the materials themselves. Acrylic showers are made from large, single pieces of acrylic, often strengthened with glass fibers to make them extra durable. Fiberglass showers, on the other hand, are made out of a molded polyester resin. Regardless of the actual materials, both acrylic and fiberglass showers are reliable and don't have any visible seams- making them an extremely attractive choice.
Both Have Negatives and Positives
As for the price of the two materials, acrylic is more expensive. However, since acrylic is longer lasting than fiberglass, and is less likely to need repairs, it may prove to be a better investment in the long run. On the other hand, fiberglass showers cost very little compared to all the other options out there, so if you want something cheaper, then fiberglass is the way to go.
When it comes to repairing acrylic and fiberglass showers, the latter wins out regarding ease and expense. Fiberglass showers can be patched a lot easier than acrylic showers, which will often require replacing the whole panel if damage occurs. Although acrylic is more durable, repairing a fiberglass shower is a straightforward and inexpensive procedure meaning you shouldn't have any problems if you experience any damage or scratches.
You shouldn't need to do much to your acrylic or fiberglass shower once it's installed. Both materials are very low-maintenance, and just a gentle wipe with a wet cloth should suffice for keeping your new shower in top condition. Another great thing about these types of showers is that they often include a built-in shelf, making your showering experience that much more comfortable.
So, both fiberglass and acrylic showers are great choices for those who want a sleek, modern design in their bathroom, and don't want to put up with the hassle of grouting and sealing. They both have their strengths and weaknesses, but they are both excellent choices- so make sure you consider them for your new shower!
For more information, [link id=1802]contact us[/link] at [phone].