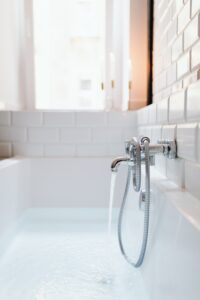 How Can a Gelcoating Repair my Shower?
Gel coated fiberglass has become an exceptionally popular material among the bath product manufacturers in the US over the past decades. The reasons behind the popularity of this material are that they are lightweight, easily moldable and easy to install. It is true that this product doesn't retain the glossy finish for a longer period since it reacts with hard water and chemical substances such as detergents and soap. The ultimate solution to overcome this condition is applying a gel coat over the surface. However, after some time this gel coat can be worn off and needs to be repaired.
If you're in one of our coverage areas, please contact us to get this kind of work done quickly!  We provide shower and bathtub refinishing in Cary NC, Raleigh, Wake Forest, Durham and the Triangle area!
Compared to most of the other shower repairs, applying a gel coat over fiberglass is considered to be an easier task. It can be even done as a DIY job if you have some idea about general maintenance work. Here's how to apply a gel coat over the fiberglass tub.
Shop for a repair kit
Be sure that your shower or the bathtub is made out of fiber firstly. Purchase a complete repair kit that consists of items like
Resin (made out of polyester)
Hardener substance and thickener
Colors
Appropriate sandpaper
Gloves (as a protective wear)
A tool and a container to mix and stir the solution
Apart from that it should have a mesh to hold the solution (to apply for vertical surfaces)
Clean the area entirely
Make sure that you clean the area you need to repair perfectly. Don't leave any soap scrum or any other substances on the surface; you may use sandpaper and rub the area to achieve this.
Mix the solution as per the instructions.
Determine if you need mesh on the surface.
Match the color (use the given colorant).
Use the given tool to apply the solution and allow it to harden (about 2 hours).
Sandpaper only the area carefully (don't overdo it).
Add another resin and colorant (don't make it thick).
Buff the area and get the glossy finish.
Although it can be a DIY task, it is always better to hire a professional to repair the gel coat if you expect a professional finish. There are various professionals in the industry to assure perfect shower repairs with long lasting results.
For all your shower refinishing and repair needs, contact [link id=10]Specialized Refinishing[/link] at [phone].