Why Have Your Shower Repaired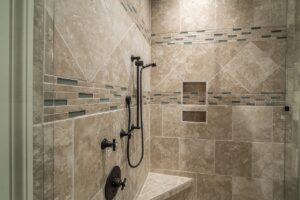 Do you live in the Raleigh, North Carolina area and are looking to have your shower repaired or refinished? Is this because of any of the following big reasons?
Unattractive Color
Rusted, Stained, Cracked, or Chipped
Looks Dated
If you are experiencing any of the aforementioned problems, then it might be time to have your shower repaired or refinished. This should help you understand the advantages of [link id="1844″]shower refinishing in Raleigh[/link], North Carolina.
Four Main Advantages of Having Your Shower Repair Done By the Specialized Refinishing Company
Attractive and durable- The shower tile repair company in Raleigh will offer you a full warranty that allows you to get repairs at no extra cost. The tub will have a gloss and will be more durable than it was previous, it will have a new lease on life.
Convenience – The repair process is short and the shower will be ready for use within a day of the completed refinishing. On the other hand, when it comes to reinstallation of the shower you might need refrain from using the bathroom for a few weeks because of the lengthy reinstallation process and the clean-up process after it is fitted. To put it simply, a repair is far more convenient for everyone. The time saved will save everyone a lot of frustration.
Cost-effective- Reinstalling a shower will be very expensive no matter what. This is because you will have to purchase a finished product from a reliable dealer, then you will have to pay for the installation on top of that. The installation process will cause a lot of damage to the surrounding areas of the shower in the bathroom because the shower will have to be detached so that the new one is fitted properly. This will require you to fix the surrounding area as well, which will make you incur additional costs for the clean-up process.
Customizable- You will be able to customize the entire repair and refinishing process to fit your specifications. The company prides itself in re-coloring, regaling, resurfacing, refinishing, restoring, and shower repair in Raleigh. This means that you will have more variety of textures and colors to choose from as opposed to settling for a particular texture and color since you did not find a finished product that meets your immediate needs. Additionally, if you feel like altering the color and texture of the future, you will be able to do so.
So, the next time your shower stops working efficiently, weigh your options and consider repairing it as opposed to installing a new shower. [link id=10]Specialized Refinishing[/link] company based in Raleigh, North Carolina, deals with this and so much more.
Contact Us For Your Next Bathroom Remodeling Project!
For more ideas when you want to remodel a bathroom call (919) 568-1176 or complete the contact form below for a FREE estimate!
[gravityform id="3″ title="false" description="false" ajax="true"]