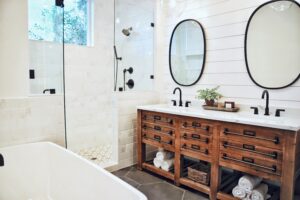 Bathrooms 101
Need some suggestions on how to arrange your washroom space? Whether you are doing it from scratch or may be planning a revamp of your old toilet, these are a few essential points you might want to consider. Let us begin together with the fundamental questions:
What's the total space of the room? How big is it?
Who'll use it? Kids, you, guests, the entire family?
What fixtures do you want to have? Shower cubicle, bathtub, dressing table etc?
Which elements of the room do you want to improve?
Is the light suitable?
What toilet furniture you'd want to purchase?
Does it need pipes work?
Quantify the bathroom space and make a rough sketch with the fixtures you need to change. This can help you estimate the exact area you have to play with. Next thing, consider the budget. Be realistic!
There are more folks looking for smaller toilets fitted with modern comforts. With scrupulous and creative thinking, you should have the ability to fit in the things you want, say a shower cubicle, for instance.
You get corner shower cubicles that preserve space and you can always use a separate overhead shower cubicle and use drapes to keep the water from splashing away.
Tubs come in various shapes too. For larger bathrooms, when you've got good space on hand, you can play with the space with fewer restraints. But if your space is small, it's important to consider every fixture you add as you have to move around too, and you don't want to clutter your bathroom.
Toilet Fittings
Fittings like sinks and faucets matter in designing your bathroom space.
– Faucets. Perhaps you want to modify the mounting, however, it may cost a lot more for pipes work. Also consider the water flow and temperature control system.
– Toilet seats. They come in various shapes and sizes. The elongated seat is very good for relaxation, but pay attention to measurements and details.
– Sinks. They come in various colors, shapes as well as sizes. The designer variety contains wall-mounted, counter sinks in ceramic, glass, steel as well as a mix of colors as well as accessories to fit.
Have no budget for new bathroom fixtures and fittings but totally tired of seeing your chipped, cracked, scratched, and stained sink, tiles and tub? Not only this makes your bathroom unsightly, but it makes it look very outdated. We offer Raleigh refinishing services for almost all kinds of surfaces. Let [link id=10]Specialized Refinishing[/link] help you in repairing, restoring, reglazing, and recoloring your bathroom fixtures today!