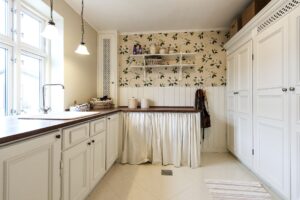 All You Need to Know and Understand About Cabinet
Refinishing
Have you ever heard about cabinet refinishing? Have you been looking to change the way your cabinets look? If you think about it, a lot of rooms in the house have cabinets; including the kitchen, bathrooms, rooms, and even some living rooms. Most cabinets are made with timber frames that will withstand a lot of use and abuse. Others are made from medium density fiberboard (MDF) that could be finished with a vacuum-applied vinyl sheet or painted. The vinyl sheet comes in various colors such as ivory, white, or even colorless. I'm sure we've all looked into an older piece of furniture and see a horrible designed vinyl sheet in there. Some prefer their cabinets and such be make completely of solid hardwoods.
Cabinet refinishing is similar to painting or coating a substrate such as laminate fiberboard or wood. The substrate needs to be prepared before this can happen, especially if you are dealing with the laminated fiberboard. It starts by applying a high quality etch primer to make sure that the paint will not peel or crack the surface. Cabinet refinishing is a multi-step process that should be followed to the latter to support the long-lasting state of the cabinets. Most people prefer this repair option because of the massive choice of finishes and colors. It is also far less costly to refinish in comparison to replacing them. You may not believe it, but the savings are unreal.
The effects of cabinet refinishing include:
Change the look of the room-Have you always admired a certain cabinet style that you saw somewhere, maybe on TV? Well, you can now use refinishing to replicate the exact look on your very own cabinets, without having to tear them down completely! Cabinet refinishing can alter the entire look of the room without any real big physical changes. If you get bored easily, you could regularly chance around colors and finishes on your cabinets just to see what you like most.
Refresh and sharpen the look-Refinishing still works for those of us who like the way their cabinets look but feel like they need to be retouched or need a little outward change. As long as the cabinets are still in the right shape and their structure has not been compromised, you could work on them and refresh the paint or furnish to make it look brand new.
Other effects include:
It increases the healthy life span of your cabinets. This all depends on the coating that you chose in the end, so you need to make sure you're choosing wisely. This is especially true for the cabinets in the kitchen. These cabinets are exposed to a lot of heat, humidity, water, oil and other seriously harmful factors over time. Wood absorbs heat and water just as it sits there, and these have negative effects on wood. Proper coating and polishing will help you remedy this issue increasing the life expectancy of your kitchen cabinets.
This is the same case for the cabinets in your bathroom that might be exposed to humidity depending on how your bathroom is structured. If they're close to your shower and you take warm ones, your cabinets could be warped or molded already and you have no idea! Those cabinets matter too. High-quality paints protect the wooden or metallic surface from absorbing harmful substances and developing rust or decaying from the inside out. Refinishing is a good alternative and remedy for total replacement as it prevents faster replacement of the cabinet in the future due to extreme exposure. If you need anything like furniture repair, we can do that for you too!
[link id=1802]Contact us[/link] and we'll have your cabinets looking like they just came from the carpenter's shop!  Call 919-747-4800.