How to Give Your Kitchen a New Look, All Thanks to Cabinet Refinishing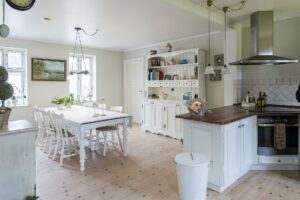 If you are planning to renovate your kitchen, you should definitely consider the best cabinet refinishers in NC to give your cabinets a whole new and improved look! Cabinet refinishing is a great way to update both the look and feel of your cabinets. Cabinet refinishing is a huge job and you should only hire the best professional cabinet repairers to ensure you get the best results and that your new cabinets match your personal taste.
Firstly, you need to ensure that your cabinets are in good enough condition for just a refinish and not a replacement, you should only refinish them if they're going to last for a while to come. Check for excessive wear by inspecting the visible surfaces of your cabinets. Make sure you don't see a bunch of patch jobs or missing parts. Most cabinets are usually made from high-quality materials and are thus, worth refinishing. Something to keep in mind is that not all painted cabinets equate to beautiful hardwood cabinets qualifying for refinishing. Check for any unpainted surfaces on your cabinets to identify the type of wood. You can even strip the paint from a sample area in order to expose and examine the wood beneath the paint. If you are still not sure that your cabinets are worthy of refinishing, just call [link id=10]Specialized Refinishing[/link] and have them take a look for you!
Preparation
The quality of a cabinet refinishing job largely depends on the preparation work on the boxes and doors. This step is so important to the process, which is why a trained professional should be the one to do it. This ensures that the new finish sticks to the new wood flawlessly and doesn't simply degrade a year later.
When refinishing your cabinet, the first step will include removal of the old finish usually by chemical stripping. The current type of finish on your cabinets will tell you the type of stripper to be used. A more aggressive stripper might be necessary for harder jobs like removing several layers of paint or industrial finishes.
Before refinishing the freshly stripped wood, some preparation work is conducted by cleaning all the surfaces with furniture cleaner or solvent depending on the stripper that was used. The raw wood surfaces will also need sanding to deal with any raised grain and to remove small amounts of old finish that remain. This gives a smooth surface to start building from with the new finish.
TONS Of Options
After this will be the final application step. You can choose from several finish options. The general approach for most cabinets during cabinet refinishing is to stain the wood using a wood stain and then follow up with a clear lacquer. If you want to get a high quality finish no matter the style you opt for, you will need to apply several layers of lacquer. You will also need to sand lightly in between these coats of lacquer to make sure that the finish adheres properly.
Having your cabinets refinished is an ideal option for anyone looking to have a new look for the kitchen without spending too much or having too much disruption during the process.
[link id=1802]Contact us[/link] and your cabinets will be looking like new. Call 919-747-4800.