Options for Your Kitchen Cabinets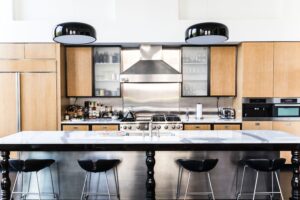 Over time the surface of your kitchen cabinets can become dull. This is due to moisture that is seen usually found in a kitchen along with the steam and cooking fumes. Among the easiest and least expensive ways to alter the appearance of your kitchen is by replacing the handles of your kitchen cabinet. While the changes might not be a major project, but they are significant as they have a tendency to attract the eye in.
With a wide variety of styles and colors to choose from, it's not an easy task to decide just one that will match with your kitchen. Maybe you would to avoid handles that have precisely the same shape, in case your cabinets already have a rectangular border around them. Plastics and metals are usually the two most popular materials when it comes to handles.
Endless Options
Another notion is to buy a kitchen cabinet hinge that is simple looking. Many hardware and home improvement stores pack their handles and hinges together. This really is certainly the ideal way to make sure that all of the hardware on your own cupboards matches. What if you already have a colored handle? You also might wish to consider hinges that are colored. Generally colored hinges are crafted from plastic.
Ever thought of adding a kitchen cabinet organizer? Well, it will surely make your kitchen look cleaner and more organized. Provided you select the one that is appropriate of course. There are a number of standard sized kitchen cabinets that may accommodate a quality cupboard organizer. It's possible for you to settle for a cheap plastic version or look for made products that can cost a bit more.
Finally, you can hire some professionals to do cabinet resurfacing or re-painting for you. It is way cheaper than installing new cabinets. As long as you get the right people for the job, your kitchen cabinets will look as good as new or even better! Here at Specialized Refinishing, we assure to help you change the appearance of your kitchen without having to buy new ones. Contact us today to find out more details.