Interior Remodeling Color Trends for 2018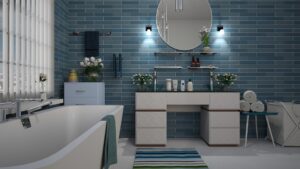 We find ourselves at the start of a brand-new year, which can only mean one thing- a whole new set of color trends. If you love decorating your home, and keeping up-to-date with all the latest interior design fashions, then you'll naturally be itching to crack open a pot of paint and start redecorating. But even if you aren't crazy about creativity, these color trends can still come in handy if you find yourself wanting to give a room a fresh coat of paint. If you're looking to totally change the look and feel of your kitchen cabinets, we do cabinet refinishing in any design you want!
Sincerity
Over the last few years, minimalism has been one of the cornerstones of interior design, and that's not going to change anytime soon. What is changing, though, is the way that homeowners approach minimalism. Instead of keeping rooms cold and silent, 2018's color trends leave a bit more room for warmth and humanity. The Sincerity palette made up of soft grays, sandy browns, and gentle greens is an excellent way of creating a room that's all about serenity, giving you a place to retreat from the fast pace of modern life for some much-needed peace.
Connectivity
If minimalism just isn't your thing, then not to worry- there are a whole host of different color trends to choose from, including this remarkably lively option. Bringing some of the vibrancy and modernity of the latest tech trends, Connectivity is all about bright blues and greens, as well as electric yellows and oranges. If you want to make a real impression with a part of a room, then the Connectivity palette is the way to go. Don't go too overboard with it, though- instead, use those bright colors to punctuate the room, and couple it with a bed of neutral grays and creams so that it's not too much for the eye to handle.
Affinity
Finally, if you're looking for a color trend that feels just like home, then the Affinity palette could be the answer. Our everyday lives are getting more adventurous, so it's nice to bring a little of that sense of wonder into the home while still keeping things collected. The principal colors in this palette are striking blue and fuchsia, set against a bed of brown to bring some stability to things. Adding those former, brighter colors in amongst the latter is a great way to add some excitement to a room, and ensure that your home always provides some unexpected fun.
Contact Us Today For More Information on Interior Remodeling Color Trends
For information on how to use this year's color trends through refinishing, [link id=1802]Contact us[/link] at 919-747-4800 or fill out the form below.
[gravityform id="3″ title="false" description="false" ajax="true"]