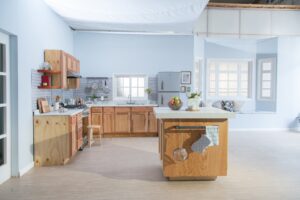 When Do You Need to Consider Refinishing?
Our kitchen is one of the used places in the house. It is where we cook and eat. So you would expect that it could get messy from time to time. Sometimes, no matter how hard we try to clean it, there will come a time that it needs more than just cleaning. You will notice that as time goes by, your kitchen will have things needed to be repaired or even replaced. There could be tons of broken fixtures that need to be attended to.

When the time comes that you need to decide on what to do with your kitchen, you could be tangles on whether to have it refinished or just replace it. However, you need to consider things before you actually decide. First, you should look on your budget. Getting a new one would actually cost you a lot unlike having your kitchen repaired.
Before You Refinish
You also need to consider quality. If you choose to replace the broken stuff in your kitchen, you need to know whether the things you will buy are really of good quality. You need to compare prices and make sure you are paying for the right amount. However, if you choose to fix your old kitchen it will be easier for you to decide on what materials to use because you already have an idea on the quality of your kitchen and if there is anything you wanted to be changed, you can simply customize it.
Try to look at your old kitchen as well. Ask yourself; did your old kitchen serve you the way you wanted? If it did, the why bother changing it? If you think that your old kitchen is of an advantage for you then you should keep it the way it is. After all, you can always make some changes with your old kitchen and make it new with refinishing services. You can always talk to your refinishing service and tell them what exactly you want for your old kitchen to look like.
You could also consider refinishing for your kitchen if most of the woods are still good. You can check from the cabinets to the handles and even to the shelves. If you see that they are still in good shape and it could still be of great use, then save yourself from spending too much and just have it repaired. Cabinet refinishing is an amazing option if your cabinets are in decent condition still.
After you have assessed and checked your entire kitchen, it all goes down to deciding which decision will benefit you more. If you consider refinishing, will you be able to save a lot? We all know that we must value our money dearly because there are a lot of things that we need to prioritize. We must use our money wisely. Thus, we need to decide wisely as well when it comes to fixing our kitchen. Beyond your kitchen, we offer bathroom cabinet refinishing as well, they deserve love and attention as well!