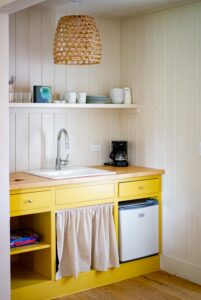 Kitchen Cabinet Refinishing
In regards to kitchen remodeling projects, new appliances may be expensive and flooring costs may floor you, but kitchen cabinets can be the single biggest expense of all. That's why it literally pays to take a close look at what you've already got and contemplate the options carefully.
Depending on the arrangement and building of your cabinets, you can replace, reface or refinish them on the way to your kitchen redo. Following is a rundown of each strategy to reinforcing the bones of your kitchen.
Kitchen cabinet refinishing involves replacing the doors and veneers on existing laminate or wood boxes. It is not a job for the beginner, but also comprehend that if you hire a professional to do the occupation, your satisfaction with the results will be directly proportional to their ability and amount of craftsmanship. Quality of existing cabinetry and the new materials applied also impact the end product.
KITCHEN CABINET REFINISHING
If you enjoy the fashion and configuration of the kitchen cabinets you have, and they happen to be made of wood or laminate, refinishing them is the clearest route to remodeling cost control. Most older cabinetry is nicely assembled, so preserving it is generally rewarding merely make sure to examine the construction attentively before pulling out the sander, because if paper thin veneers cover every surface but the solid fronts, you will need to rethink your refinishing plans. Veneers can not be sanded or stained, so painting will be the only alternative if they're involved. Whether painting or staining, pick an oil-based finish, which is much more durable and forgiving of regular kitchen grime than latex finish.
Cabinet refinishing is the cost effective solution for updating your kitchen! With minimal impact to your household (typically one to two days), you can have the "dream kitchen" you've always wanted, quickly and affordably! Bathroom cabinet refinishing is always a great option if you're looking to change up your bathroom too.
Before deciding whether to refinish or replace kitchen cabinets, there are a few important questions to consider:
Are the existing cabinets in good condition?
What materials were used in the original cabinets?
Is the cabinet style right for the current design of the kitchen?
How much money is available to cover remodeling costs?
Is time a factor?
The answers to these questions will help homeowners determine the best course of action when it comes to remodeling kitchen cabinets. [link id=10]Specialized Refinishing[/link] is your go to for all of your home refinishing needs!