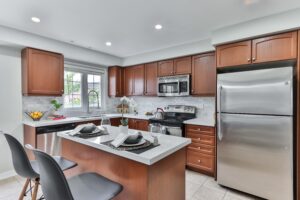 Kitchen Cabinet Painting Advice
Are your kitchen cabinets getting that old used look? It may be time for a repainting job. Repainting comes with a number of ideas that you need to think about. Restoring the cabinets to their previous color may not be your thing. A new look will not only improve but give a new shine to your kitchen. The best cabinet painting companies in Cary will do a good job when it comes to repainting your fittings in the home. Here are a few kitchen cabinet repainting tips that will get you the best results for your kitchen.
Look for options
It is a no brainer that things have changed when it comes to kitchen cabinets since you last installed yours. This includes the kind of painting and finishing being done. A quick browse through the internet will give you a good idea on what is trending. Paints have also changed with fragrance paints and texture paints among many others. Painting styles have also changed creating some of the most interesting pieces of art. The option you pick will also be determined by the budget and type of cabinets you have.
Go modern
It is wise that you modernize the look of your kitchen. Cabinets will cover most of the walls of the kitchen. They will be the first thing that any visitor will see. The most modern looks come with a mix of retro and futuristic designs. The best thing about modernizing your kitchen cabinet through a good paint job is that it will work with the appliances most of which will be modern. With kitchen cabinet refinishing, your design options are essentially limitless!
Work with the rest of the kitchen
The rest of the kitchen needs to work with the cabinets and vice versa. It is good to determine the colors that will work best with the rest of the kitchen. Choose a paint job that works great with the rest of the walls. You can choose to play around with the colors or just go for one strong one.

Prepare the cabinets sufficiently
One of the many things that will affect a cabinet repainting job is the kind of preparation that is put on the cabinets. The paper sanding and repair work is necessary. The best painters will ensure that proper preparation is done before painting is done.
A good repainting is generally affected by the kind of professionals chosen for the job. The best will provide good services combined with really good advice.
Do you have old, outdated, or just want to change the color of your cabinets? Get in touch with us here at [link id=10]Specialized Refinishing[/link] today!
Outdated Kitchen or Bathroom? This is Perfect For You
Project Home Makeover: Updating Your Home Without Replacements
Taking Good Care of Your Bath Tub