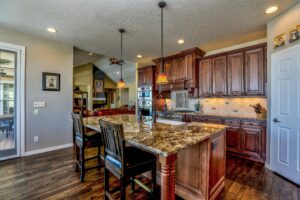 Make Your Cabinets Look Like New, Without Having to Replace Them!
Are your kitchen cabinets looking a little worse for wear? Perhaps they've gotten scuffed over years of use, or maybe the paint has started to fade. Whatever the reason, you might think that the only solution is to have a whole new set of kitchen cabinets fitted- and end up spending a pretty penny. However, there's a much more affordable option that can give leave your cabinets looking just like new: kitchen cabinet refinishing!
However much love you put into your kitchen when first designing it, we all fall out of love with old styles after a while. Since your cabinets form such an integral part of your kitchen design, a refinish can be the springboard to a whole new look. Whether you want to try out a new color scheme or ditch a simple wood style for something a little brighter and cheerful, the choice is entirely up to you.
Don't Make Assumptions About Refinishing
You might be surprised to learn that such a world of options costs less than you might think. Refinishing costs just a fraction of the price of replacing your cabinets, and the result can be just as astonishing. What's more, [link id=10]Specialized Refinishing[/link] only uses the very best materials available on the market and provides a highly professional service. As well as being easy on your wallet, cabinet refinishing is a pleasantly quick process. There's no need to remove the cabinets while they are being refinished. Instead, everything can be done on-site in just a few days, with minimal disruption to your day-to-day life.
There are so many options available when it comes to cabinet refinishing, so whatever look you have in mind for your kitchen, you'll be able to achieve it. It can cover anything from just altering the color of your cabinets, to making them look like a whole new material. Refinishing cabinets will also help to knock out any scratches or dents that might have spoiled their look. Goodbye, shabby kitchen- and hello to a whole new one!
So, if you feel like giving your kitchen a much-needed update, but don't want to blow your budget on brand new cabinets, give refinishing a try. The choice is yours with a new style or color scheme, and you'll know that you're saving a bundle by upcycling your old cabinets- a win-win situation! We can greatly extend the lifespan of your cabinets with our kitchen cabinet refinishing services.
[link id=1802]Contact us[/link] and your cabinets will be looking like new. Call [phone].