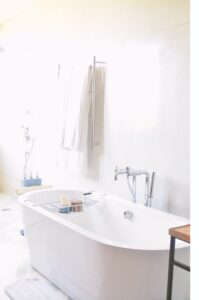 Outdated Doesn't Mean You Have to Totally Remodel
Whether you have been living in your home for a very long time or you've just moved to a new one, you can never deny the fact that what could really frustrate you easily is having an outdated kitchen or bathroom. It can always become a large barrier of having a trendy home. But having these old equipment doesn't mean you need to replace those. Maybe, all you these items need a little magic from refinishing. From bathtub refinishing to kitchen cabinet refinishing, [link id=10]Specialized Refinishing[/link] can do it all!
But why would you want to have these refinished when you can buy another set of fixture and furniture?
Well, here are some reasons having your old surfaces refinished is better than getting new ones.
Economical. It is very economical because instead of using all your money in buying another set of bathroom and kitchen furniture, especially cabinets and bathtub for the bathroom, you can just have them refinished. In that way, you could save at least 50% of the money that you are ought to spend in buying another set of equipment. With all that extra money you have, you could buy other things like that new bed you've been eyeing at or that computer upgrade you've always been wanting.
Saves Time. Replacing that old equipment can really consume your time especially if you are a very busy person. In your bathroom, it can take days or even weeks just to tear down that old bathtub of yours and have it replaced with a new one. The same happens with your plan to replace some parts of your kitchen cabinet, hiring a contractor will take days for them to plan and for them to make a move about your problem. But with professional cabinet refinishing, you can just wait for a day for them to finish.
Upgrade your equipment. Did you know that besides the fact that you could refinish your bathroom and kitchen equipment, you could also upgrade it and put another purpose? In your kitchen, for example, instead of just having a one-shelved cabinet, you could request to make it two or three – shelved cabinet for all your needs.

In conclusion, these tips that we have provided could really help you in your refinishing needs. Just remember to choose wisely and know if your decision is the best choice you can make with regard to your plan. Remember, not all good decision is a wise decision. There better alternatives out there. Good Luck!
Contact Us About Our Refinishing Services in Raleigh today
Be wise and get the best refinishing service in Raleigh.
Call [phone] or complete the contact form below for a FREE estimate!
[gravityform id="3″ title="false" description="false" ajax="true"]
Check below for more great home improvement articles:
Bathtub Reglazing Raleigh NC
Resurface Kitchen Cabinets Raleigh NC
Bathtub Refinishing Raleigh NC