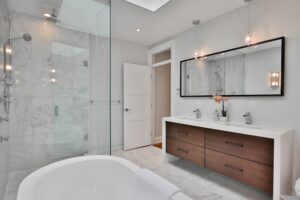 Give Your Bathtub and Sink a Facelift!
Do your tubs and kitchen sinks give grimy and dull impression after appropriate cleaning and you're thinking to give those a new and refreshing look? Tubs and sinks should be invigorated regularly to get a fresh and new appearance.
You can do it yourself or can take the help any of professional for achieving better and lasting results. They have expertise in the cleaning of all kind of sinks and bathtubs and they can finish this job in a very short period of time. The price and finishing time mostly depends on the material and the conditions of your bathtubs and sinks.
Make old tubs and sinks look remarkable
The procedure will not require much time and is straightforward. The whole process can be finished by you in a day. Subsequently go after these measures for the refinishing in case your tubs are produced from the stuff of fiberglass and porcelain. Refinishing is a simple but long procedure.
The initial job will be to wash the grime and spots which are built up over a time period. Some substances can be used by you for this particular function. But be cautious while selecting the compound since some substances are harmful and may not be safe. There are reports of departure by using substances that are dangerous for this particular function. That's why it is best to get professional refinishing services. For Raleigh bathtub refinishing as well as sink refinishing, trust only Specialized Refinishing Co.
Is sink refinishing time-consuming?
It can take you about two days for sink refinishing work without bothering you much. So if you want to finish the job immediately, better let professionals handle it as they know what it takes to do the task faster.
In case your tub and kitchen sink is created of porcelain and fiberglass subsequently there's an every chance that it'll give a look that is very dirty and old or maybe even taken care correctly. There might be some damage in the specific places that should be fixed to prevent replacing in a short time. And the same matter is related to a kitchen if it's dime, spots and you also find it difficult to eliminate all these then it is best to go for professional refinishing. We offer fiberglass gel coating and repair as well if you've accidentally damaged your stuff!
Call us and discuss with us your sink or tub concerns!