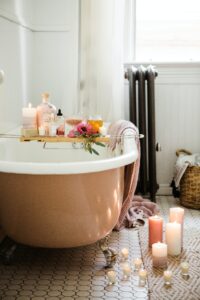 Easy Bathroom Decorating Tips for the Holidays
Getting ready for the holidays but one look at your bathroom and all you see are chaos? Not to worry. Before you rush to find a remodeler in Wake Forest, consider any of the simple tips below. We will share with you some amazing ideas to decorate your bathroom and give it that simple and elegant look for less. Bath tub refinishing is always an option too!
Look for storage containers
You can get some beautiful wooden or plastic storage containers and use them to store your extra tissues and towels. Put a vase with a flower on the side of one of the containers to give it a nice look. Roll the bath towels and place your tissues nicely inside the containers. If you have a nightstand at home that you don't use, toss it in the bathroom and it can be used for storage.
Cover your sink
How about covering the bottom of your sink using a little fabric? You can design your own sink skirt to cover the mess that's behind the sink. Just get a fabric like a bedsheet with color that blends with the rest of the bathroom your sink cover.
Storage Doesn't Have to be Ugly
Beautiful ways to store bath products
If you have some extra fruit baskets in your home, take them to the bathroom and use them to carry your bath products. You can use a chain to hook the fruit baskets on top of the bathroom countertop and give the space a beautiful appearance.
Install a shelf rack
Shelf racks can help you to organize things and declutter the bathroom space. You can go for one that has hooks below so that you are able to dry your face towels. Shelf racks with hooks are perfectly ideal for small bathrooms. You can put the dry towels at the top of the rack and then hang other items down below where there are hooks.
Put a decorative container
If you have an unused sugar bowl that you can toss in the bathroom and use it to decorate the space. You can put items like cotton balls inside the sugar bowl just to add some character. Cotton buds, make up brushes and other items can be displayed beautifully on the bathroom counter using your colorful unused serving pieces.
Wooden basket
Put your tissues in a small wooden basket on one corner of the bathroom. This will eliminate the trouble of having to look for toilet paper when it runs out. If you have a long vase that is not in use, consider putting some tissues in there and beautifully displaying them where they can't go unnoticed.
Get in touch with [link id=10]Specialized Refinishing[/link] today and get your bathroom looking like new this holiday season!