High Risk Of Using Low-Quality Refinishers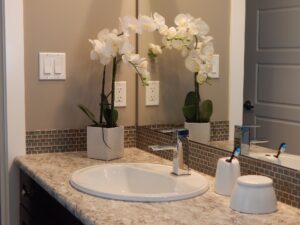 I think it's a safe bet that most people would rather have a nice functional tub rather than an old dingy one that makes their entire bathroom look bad, right? Owning a home is not cheap, and it takes a decent investment to keep it well maintained. If you want your bathtub to stand the test of time, you need to have quality refinishing done and nothing less. Low-quality service is going to give you low-quality results, and that's just the fact of the matter.
Low-quality refinishers are risky and they actually pose a danger to everyone in that homestead. The actual process of refinishing deals with some not so friendly chemicals that you want to be properly ventilated out of your home. A low quality job is also going to hurt your home's curb appeal. You really get what you pay for with stuff like this. Think of it like refinishing a cabinet. You don't want to use some cheap varnish that literally runs off, you want to use the good stuff that will never fade away or come off.
Bath & Shower Safety
Younger children have less strength and tend to be more on the top-heavy side, meaning it's a lot easier for them to fall down in the shower or tub. A low quality refinish may do nothing more than make an even slicker surface for them. When one does not invest on a think and durable coat, slippery floors are likely to occur and this is just not good for anyone. Such surfaces tend to crack, chip or flake after using the bathroom for a little while as well.
A dangerously slippery tub is just one of the many warning signs of a low quality job. Low quality refinishers are likely to cause corrosion and the tubs are likely to trap dirt easily, making cleaning it a real pain in the neck. And all of that cleaning is going to lead to discoloration. In the end you're going to spend so much more time cleaning and working with your tub it won't be worth any money you managed to save.
Not Everything Is A DIY, Let The Experts Do The Work For You
Life is precious and it's not worth taking that risk to refinsih your bathtub if you aren't properly trained. The bathroom is meant to be a nice relaxing place, and you should make it that way. You get what you pay for. A quality job is going to boost your home value and make people take notice when they see your bathroom.
If you are investing in a new home or you want to do bathroom remodeling, hiring professional refinishers could be the best decision ever. They offer specialized refinishing that guarantees safety, durability and longevity while giving your bath a state-of-the-art finish and look. For realtors or property managers who want to increase sales, consider bathroom refinishing as an area of interest.
Contact Us About Our Bathtub Refinishing Services in Raleigh Today!
Talk to [link id=10]Specialized Refinishing[/link] now and give your home the excellent refinishing it deserves. Call [phone] or complete the contact form below for a FREE estimate!
[gravityform id="3″ title="false" description="false" ajax="true"]