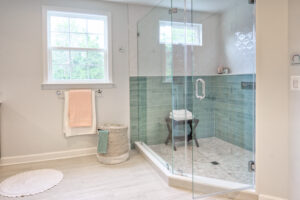 Complete Reglazing, Refinishing and Resurfacing Services!
Bathtub, shower, and ceramic tile reglazing and countertop resurfacing services can be easily restored to look brand new!
Does your bathtub or tile have an unattractive color?
Is it chipped, stained or rusted?
Does your countertop look dated?
Are you concerned about the cost of replacement and how much time it would take?
Specialized Refinishing provides the skills to make this happen at a fraction of full replacement costs. Pronto Refinish will professionally prep and reglaze, resurface or refinish your bathtub, tile or counter with minimal mess and downtime. After completing your project, fixtures will have an amazing gloss, greater durability and with a full warranty*. You can use it the next day or even in just a few hours with our exclusive Eco-Friendly products.
Contact Us About Our Refinishing Services Today
Specialized Refinishing, located in Raleigh, NC provides refinishing, resurface and reglazing service areas throughout the North Carolina Area( list cities). Schedule your appointment or request a FREE estimate by phone or use our convenient online form below.
[gravityform id="3″ title="false" description="false" ajax="true"]