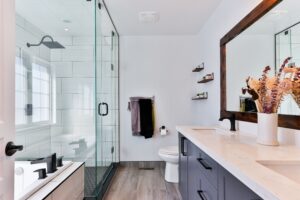 Oh sure – we all know a little DIY is probably good for you – AND your wallet, but sometimes, it truly IS best to leave some things to the pros.  One of these particular things is plumbing. While you can likely replace a toilet tank ball, put a new shower head on, or something along those lines, there is a time when you need to really take a look at the DOWNSIDE to trying some things on your own.
Things like swapping out a toilet or major work on any of the water pipes through your house are GREAT things to leave to an actual certified and licensed plumber. Either of those things can mean horrible things if they are done improperly. Very dire consequences.
Shower Repairs = Professionals
Another thing that should definitely be left to a professional – shower repairs and refinishing. There are several items that can go wrong here. If you're interested in repairing the actual enclosure itself – as well as that nice shiny finish – the average homeowner is going to have a REAL problem getting that to look right. Sure, it CAN be done and it doesn't take a herculean effort to make it look good. It will however take a lot of time to get it right. Very possibly more than one try. It will also take materials that the average DIYer is not going to have laying around.
The second thing is when doing major work or replacing plumbing pipes in the shower system. These pipes are sometimes accessed from behind the shower and sometimes require access by moving the whole shower. Either way you slice it, there's quite a possibility of running into "uh oh, ummm…" type problems.
If you are a smart homeowner, you will start looking for a shower repair professional who knows how to get the work done well and at a reasonable cost. If you're expecting to need some work done – for example you have a spot getting worn in your shower and it's going to be going shortly – or you've put a patch on your shower enclosure and it's only a matter of time before it starts falling apart.
We can tell you a GREAT company for this kind of thing – yes, it's us!
Specialized Refinishing can handle all your shower and bathtub repairs in Cary NC.Ready for YOUR shower to look showroom great again?  Call us today at (919) 747-4800
Understand what needs to be done
When you make the move to get something done, DO make sure you know what exactly is required in your shower or entire bathroom area. Will they install a new faucet, repair toilet hardware or renovate the entre space? Understanding the scope of work will help you to choose the most qualified professional in Cary NC. If you have had issues like an overflowing toilet for the longest time, speak to the plumber about it and get a written estimate of the project. If you've tried to do it yourself a couple of times but failed, don't be afraid to share this with the expert too.  There may be some issues that didn't exist before that they need to be on the lookout for. The old "Repair $5. Repairs after you've tried to fix it yourself? $50" example can sometimes be true. We don't know of any places that automatically really DO charge more to fix things behind you, but sometimes it WILL take extra time to repair new damage that was created by attempts to fix things on your own.
How to choose a Cary contractor
While you will have so many people who claim to be capable of offering the same service at an affordable rate, take your time when choosing a shower repair professional. We encourage you to check our references and read our reviews for [link id=10]Specialized Refinishing[/link]. We work hard every day to make the work that we do the absolute TOP of the line – like we would want in our own homes! Hiring someone with inadequate skill level and knowledge required for the project can be costly. Ask the professional to show proof of licensing and qualification. You may also ask them to provide you with contacts of three of their most recent clients. You can go through images of work they've done before just to see what they are capable of. If you're selecting Specialized, you will find a whole LOT of images right on the website here