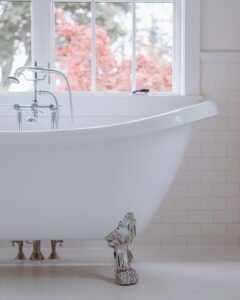 Don't go Out and Buy a Whole New Bathtub!
You will always have two options when it comes to an old tub. These include refinishing or replacing the tub. Both come with their advantages and disadvantages. Professionally Refinishing a bath tub is a good way to go as compared to a total replacement for a number of reasons.
Labor
One of the most feared aspects of any job is the cost of labor. This will involve the time and materials used. Replacing a tub is fast but will really cost time when you start replacing the tiles. There are high chances that you will have to do this. Old tiles will not work well with a new tub. The amount of work needed to refinish a tub will simply be between applying scouring acid, waiting for it to act, scrubbing and then finishing. Most will argue that the time it takes to install work out the two is the same thanks to the fact that you will have to wait for the acid to work into the tub. Buying a new one ultimately takes a longer time to handle even with the best installers in Raleigh.
Cost
A new tub will cost between $200 to more than $2000 depending on what you are going for. The fact of the matter is that older tubs are more costly if you were to go for the same brand. Buying new tub and installing it yourself will definitely cost you more money, in the long run, depending on the type of tub you go for. You will have to buy a cheap one to achieve this. Having someone install the tub will cost more than refinishing. Having someone do bathtub refinishing for you will still cost slightly less than having the best in Raleigh install a new tub for you. It is never advisable to do your own installation and tub finishing. There will always be a major difference between jobs done by professionals and those done by amateurs.
Quality
It is impossible to match the quality of a new tub and an old one. Old tubs had a completely different makeup that was tougher and longer lasting. The equivalent of the same tub will cost you an arm and a leg. You will need to spend a lot of money to get a good tub. Refinishing allows you to maintain a high-class tub with a new finish. This is the best way to go if you want to save money, time and maintain your high-quality bathtub.
A full bathtub replacement used to be the only option, but today it can be repaired, restored, refinished, resurfaced, reglazed, and recolored on site without removal and in just a few hours! Call us here at Specialized Refinishing to learn more about our rates and services.
Take the time to explore a few more of our informative home improvement articles:
Why Choose Bathroom Refinishing?
When Should You Buy A New Bathtub?
Why Choose To Repair A Bathtub Instead Of Replacement?