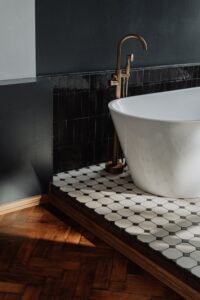 Are you considering replacing your bathtub? In many homes, the bathroom is a cornerstone of the house; it is where you get ready for the day and cool down for your night. If you are considering a bathtub replacement, there are several things that you need to contemplate. In today's article, we are going to go over these considerations. You also need to keep bath tub refinishing in the back of your mind.
Cost
One of the most important things to many people is cost. At first, a lot of people just consider the cost of a bathtub, not the value of an overall project. A tub may start at around $200, but a bathtub replacement starts around $1000. A lot of work needs to be done. Several factors increase the cost of your replacement:
Quality and Material of Tub
Amount of Work Needed
Removal of Old Tub
Other Bathroom Work Needed
Type Of Tub
Before deciding to replace your bathtub, you should consider what kind of tub you want. The right fixture can make all of the difference. Your number one consideration should be the size of the space that you have. This measurement will limit your bathtub options. Other considerations should be:
How you use the bathtub (i.e., soak vs. quick bath
Will you also shower in the tub?
What material?
What shape?
Want to know some of the most common types of tubs? Here's a list for you.
Soaking Tub
Walk-In Tub
Sit-Down Tub/Chair Tub
Whirlpool
Air Tub
General Purpose Tub
Tub Surround
A wrap around the wall by the tub is a tub surround; these panels allow you to have an easily cleanable space that isn't affected by the water. They also provide your bathtub with a unique look. Most options are a semi-flexible material that is flat.
Materials
You are going to need to decide on the type of material that you want to use for your tub. Acrylic and fiberglass tubs are the most affordable and among the most common tubs out there. They are also the lightest of weight. Some of the other materials out there include:
Cast Iron
Steel
Marble
Ceramic Tile
Stone
Wood
Installation Type/Location
Where you put the tub can also make a difference in cost, duration of the project, and the amount of work that needs to be done. Bathtubs can be installed into multiple locations in your bathroom, using a variety of methods. Here are some of the methods available:
Alcove Installation
Corner Installation
Free-Standing Installation (Mostly standing tubs)
Platform Installation
Undermount Installation
Specialty Installation (For Custom/Specialty Tubs)
Now that you know some of the considerations that you need to take into mind when planning to replace your bathtub, you can make an informed decision. Make sure to also consider the look of your bathroom before replacing the tub! You want to tie everything together.
If you want to update your bathroom by reglazing that old bathtub contact [link id=10]Specialized Refinishing[/link] at [phone].