How are the Tiles in Your Shower?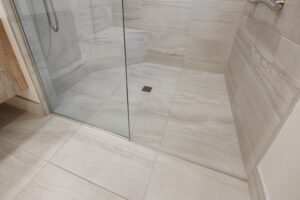 Cracks in your shower floor and walls need to be repaired as soon as they appear. Cleaning and fixing missing grout is also necessary to keep the tiles in good shape. There are a number of experts who can perform regular maintenance and shower tiles repair and refinishing.
All you ought to do is find a skilled and experienced one and contact them every time you need their services. Investing in such services will benefit you in the following ways.
Saves you money
Repairing your tiles immediately when you notice a crack will help in avoiding further damage. A crack allows passage of water, bacteria and other substances that will damage a large portion of the tiles. The damage may be so extensive to the extent that you have to redo your entire shower floor or walls.
Cleanliness
It is usually difficult to clean inside the crack. Dirt will accumulate in the crack thus posing a risk to your health and that of your loved ones. In addition to dirt, the crack can also accommodate harmful microorganisms such as bacteria and fungi. The shower can also develop a stench as substances go into the crack. It is advisable to repair cracks immediately as they may pose a threat to your health. Our tile shower refinishing services are always ready to go and can get you fixed up in no time!
Physical Injury
Cracked or loose tiles can cause physical injury to those using the shower. One may fall off and hurt themselves when they step on a loose tile. Physical injury is a serious health issue which can impair one's day to day activities. Home owners are advised not to expose themselves and others to such risky situation.

Get shower remodeling ideas
The tile repair expert you hire will be able to advise you on some of the best remodel ideas available for your shower.
Improves value and quality of your home
With properly maintained shower tiles and a sparkling grout, your home will be a pleasure to be at. Your home is a huge investment, and you should strive to ensure that you maintain and improve its good condition. It will also heighten the value of your home, and you can sell it at a good price if you want to move.
Many people shy away from shower tile repairs because of the cost. If you do your search well, you can find a shower repair expert in Durham who will do the project for you at an affordable price. Get in touch with Specialized Refinishing today!
Here are a few more home improvement articles to explore:
Kitchen Cabinet Repainting, Refinishing Experts in Raleigh
Hiring Shower Repair Professionals in Cary
Looking For Bathtub Refinishing Experts in Cary NC?
Contact Us For More Information On Our Shower Tile Repairing Services in Raleigh
If you need a shower repair professional call [phone] or complete the contact form below for a FREE estimate!
[gravityform id="3″ title="false" description="false" ajax="true"]