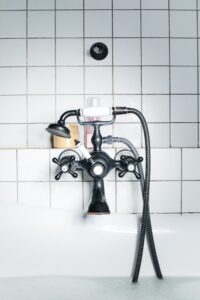 Does Your Bath Tub Need To Be Refinished?
Have you walked into your recently updated bathroom and realized something is just not right? The tiles are lovely and clean, and the new lighting was just installed a few days ago, but something is off. Looking around you wonder what it is that is making it look so shabby? Then you notice the bathtub. Once, the focal point of the room; large, shiny and polished it now stands there sad, chipped and dull. It's time for a reglaze! Here are the tell-tale signs that a professional Raliegh bathtub refinshing is in order.
Chips and Cracks
Chips and cracks are unfortunately just normal wear and tear on a bathtub. There can be many reasons as to why a tub is chipping and cracking like improper support, harsh cleaners that remove the glossy finish or dropping things into the tub. If chips and cracks are seen in a bathtub, those are the first signs of bathtub needs reglazing.
Tub Looks Worn
After years of use and cleaning, there is no doubt that over time the finishing on the tub is going to start to look worn and dull. The once white bathtub may now look slightly gray or even patchy in some areas that are overused. It no longer shines how it used to, resulting in the tub having a dull effect on the eye. Reglazing can bring back that glossy shine once again.
Uncomfortable to Sit In
Due to the integrity of the finish being worn or chipped a rough texture can be present where there was once a polished, smooth surface. It may feel rough to the touch, and therefore will feel rough on other sections of skin on the body. Sitting on a rough surface may be uncomfortable. Reglazing will allow you to slide comfortably in that relaxing bath.
Color is Not Right
Is that black bathtub clashing with your spring flower garden decor? Or maybe the tub is still in the 70s – gold or olive green. When you reglaze a tub, you can pick the color. So whether you want to return to a neutral white or ivory or you want to go wild with cherry red (haven't you always wanted a red bathtub?) reglazing is the answer.
Contact Us About Our Bathtub Reglazing Services Today
Whatever the reason, reglazing can bring that old bathtub back to life. [link id=1802]Contact us[/link] – your bathtub reglazing specialists and make your bathroom bright and cheery once again! Call [phone] or complete the contact form below for a FREE estimate!
[gravityform id="3″ title="false" description="false" ajax="true"]