Fiberglass Prefab VS Custom-Tiled Shower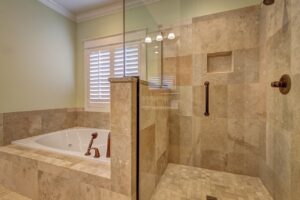 If you are giving your bathroom a facelift and still looking into doing something with your shower walls, we've got a few options for you. If you're looking for an inexpensive shower wall option, a straightforward approach to waterproofing is to use prefab fiberglass panels that not only attach easily to the wall in a single sheet, but they instantly give your room more style for an affordable price. The panels are also available in a wide array of design options, from plain white in gloss to matte, textured stone-effects and also come in bold colors and patterns that really create an impact.
Fiberglass is going to have a few potential drawbacks that you need to consider first. Fiberglass may provide an attractive patina for several years if care is taken to maintain it, but unfortunately, it's more prone to scratching, yellowing and fading with time. While holes and cracks can be patched up, you need to worry more about taking care of mold or discoloration. All in all, prefab showers are:
They are lightweight, therefore, easy to install.
Cost-effective.
They have fewer seams making for easy maintenance.
They have a flexible base set in with a thin layer of mortar for stability.
Custom-Tiled Showers
If you are looking for a high-end finish, tiles are your best option. Not only do they come in a vast array of styles and designs, they also offer a water-tight and more durable surface that is easy to clean and relatively simple to replace when it becomes discolored over time. Unlike prefab fiberglass that will dull from over scrubbing the surface, tiles are hard and kiln-fired, so you can scrub the bathroom as much as you want with a brush when cleaning mold or hard water mineral debris in a shower with no worries.
The cons of tile is that not only is it more expensive than prefab fiberglass bathroom unit, a tile shower is also labor-intensive and messy job. Plus achieving a perfectly flat surface takes some mastering and if they have not been correctly installed they tend to leak not to mention, the grout requires regular upkeep. While the toughness of tile makes it a desirable choice, it really comes down to your own needs and your ultimate budget.
Every bathroom makeover involves a certain expense, but remember that you're hopefully going to get an incredible return out of it. We can help you figure out what's going to match your house and style best too if you need help, we've done a lot of bathrooms and seen just about every design you could imagine.