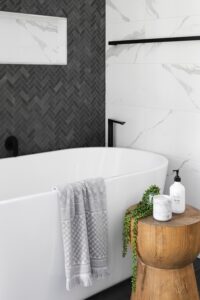 Bathtub Refinishing – The Wallet Saver!
Your old bathtub may be an eyesore with its stains and rust. If you want a dramatic change in your bathroom without spending too much money on it then bathtub reglazing can be a great option for you. This is especially so if the tiles around your bathtub are not too badly off. Replacing the entire bathtub may be a bit of a challenge and here are a couple of reasons why you should reglaze instead.
Low labor costs
Although bathtub reglazing has a couple of stages, it does not need as much labor as replacing your bathtub. Replacement means you will need about three or four people taking out the heavy bathtub to carry it down stairs. You will also need a plumber to take care of the plumbing for the new tub. Reglazing on the other hand only needs about one or two technicians working with minimal tools for a couple of days. You do not need to spend as much on labor or have too many people in your house.
Timeframe and bathroom availability
The time frame for the completion of any job depends on the amount of work needed as well as any number of challenges that may arise. Although reglazing and replacing can take the same amount of time due to the wait period between every stage or the process, you are less likely to encounter problems whole refinishing than while replacing the bathtub. Also, replacement will probably put the entire bathroom out of commission while refinishing only affects the bathtub. You are more likely to have a smooth and problem free time during reglazing. Bath tub refinishing is a great service!
Cost
It is quite obvious that reglazing is much cheaper than replacing just from the amount of labor and activities that take place during both. It can cost you as much as $3000 just to replace your bathtub, keeping in mind that any problems found while replacing can result in a whole new set of costs. Reglazing typically costs less than $1000 dollars with little risk involved. Professional reglazing is the most affordable option if you are not ready to strip out your old bathtub.
Maintain quality bathtubs
If your old bathtub was a well-made piece like a vintage copper footed tub, you probably do not want to replace it any time soon. Getting a professional tub refinishing in Cary is the best way to maintain such quality pieces in your bathroom. Today's bathtub are not made using the same material and craftsmanship as the older ones, you do not toss out yours just yet. For all your kitchen and bathroom restoration and refinishing needs in the Triangle area, call [link id=10]Specialized Refinishing[/link]! We repair, restore, refinish, resurface, reglaze, and recolor all types of surfaces including: porcelain, fiberglass, ceramic, grout, laminate, formica, metals, plastics, and wood.