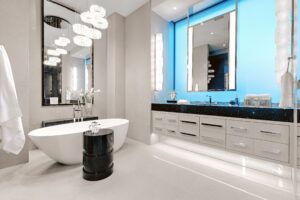 Bathroom Remodeling Tips!
If you found this page, then you probably are already searching online for bathroom remodeling. The great thing about the Internet is the ability to find all sorts of information about whatever topic quickly. In this case, it would be about remodeling bathrooms, refinishing bathtubs, or more. By going to various sites and reviewing articles, content, and even images of finished projects, people can make decisions based on some type of general trust in the company that they are speaking to. If you see a small site with only a few pages that's only been around for about a month and there's no references online, it might be a little suspect.  Of course, everyone does have to start somewhere.
On the other hand, if you run across a website with a lot of content a lot of before-and-after pictures, many testimonials, and of course many references from local places such as Yelp, Angie's List, or the Better Business Bureau, then odds are good that you probably have a strong, local, reputable company. The Internet is awesome for helping people find the right contractors to do the job for them.  That, combined with the ability to find great prices on certain materials, can be just what the doctor ordered for saving you on your next remodeling project.
So let's take a look at some of the things that you might want to examine if you plan to remodel your bathroom. Redesigning your bathroom will require you to determine what supplies are needed. A simple replacement of the sink calls for fewer supplies than replacing your cabinets and bathtub. A growing number of people who perform remodeling are doing their shopping online, and you might want to make the same choice. We'll take a look at what you can to do online.
The components involved include how considerable your remodeling job will be and what supplies you will need. Searching on the internet is helpful because it can give you an idea of how much you can expect to pay if you decide to go to a brick and mortar store. It might be a little difficult to buy a bathtub online, primarily because of the shipping costs. That will depend on where you might be buying from, and where the bathtub will be coming from. You may possibly see that shipping a bathtub across the country could cost nearly as much as the bathtub itself. Something else to consider, unless you are doing all of the labor yourself, plumbers don't like to warranty their work when they don't supply the materials.
A very important factor that is often a challenge with ordering online is the shipping costs. Other than that, there tend to be many positive aspects to getting your supplies over the Internet. Your shopping time can be much less, when you're travelling to various websites rather than driving from store to store. A home and garden store may be big but many of the items you may want still needs to be ordered through a catalogue. Locating a bathtub, in addition to fixtures can be bought without ever leaving the comforts of you own home. Once you already know exactly what you want, your materials can be ordered in mere minutes.
One more nice thing about online shopping is no sales people pressuring you to go another way. You can leisurely browse the materials at your own tempo, noting the prices of each. Performing it online could also help you keep within your financial budget if you stay organized. There is a propensity for people to spend too much on a bathtub because of a pushy salesperson. If you are at your computer together with pencil and paper, you will have an easier time being within budget since you probably will not be swayed by a salesperson.
There are numerous advantages to shopping online but don't get swept up with all the different websites – and certainly don't overlook using local contractors for your project. While the Internet does make a great place to get new ideas, compare prices, and review several different companies in your area the Internet by itself can't finish your project. For that, you're going to need real people! when it comes down to saving some money though getting various things for your project, you certainly can save some prodigious money by looking online. If you have your material list, and a spending budget, you should have no trouble finding what you need.
Contact Us Today For More Bathroom Remodeling Tips and Tricks!
Call [phone] or complete the contact form below for more information!
[gravityform id="3″ title="false" description="false" ajax="true"]