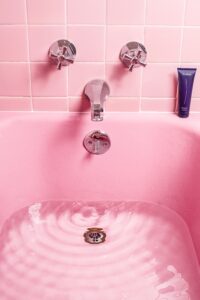 You Don't Have to Totally Replace to Get a New Look
One of the things that we are often asked about is completely changing the color of a sink, bathtub, shower or even the whole room. There are a lot of reasons for this. Many times, we are called when people are updating the look of their bathroom, kitchen or any other room in the house which has more permanent fixtures. When the last update was done to whichever room, the colors (and styles) that were chosen were probably very time appropriate. Each decade/time period seems to have some identifying characteristics. Certain colors that were very popular, certain fixture styles – like sinks and bathtubs obviously. Even down to things like tiles in bathrooms. Anyway, the point is, when people decide it's time to update their room, changing colors can make a HUGE step towards bringing your room into line with the current styles! Specialized Refinishing offers Raleigh Triangle refinishing services for EVERY room of your house!
Color change – can we do it?
So to use some cliches here… We can take you from mild to wild – "My bathtub is white right now and we like the tub, but my wife would like to change it to something more exciting. Can you redo it in red?" Well, that certainly IS a change for the bolder and more exciting – and yes, we surely can. OR we can go the other way – from "Oh. My…" to "WHOA MY!" Yes, we DO get these calls going the other way – "We have a bathroom that still has the original wall tiles in that sort of pea green and gold from the 70s. And the bathtub – it's that SAME pea green. Can you change that?" Changing colors in any room can make it a whole new experience – and we get the "WHOA MY!" response a LOT of times when people walk into a room that we have worked our magic on.
Back to the color changes – can we? Yes. Yes we can. There is almost NOTHING that cannot be refinished and recolored. In some of the older homes that we go into, we do find fixtures that are really going to be a lot simpler (and MUCH cheaper) to just get refinished due to odd sizes or placements. Trying to replace some of the older built-ins requires considerably more cost than refinishing with a different color. If you're doing a serious makeover in your bathroom, then that may be the idea, but for just breathing some new life into a dated area? A good refinishing is likely just what you need!
Liven up YOUR home in 2017!
With 2017 right around the corner, now is a great time to think about home improvement projects for the upcoming year. People will have tax refunds coming back – and that is often a great little chunk of money for that much-wanted change around your home. Be it some new furniture, some new cabinets, repainting some areas, maybe even a major remodel in one of your rooms.
Specialized Refinishing can help you anywhere around the Raleigh Triangle (or even further depending on the size of the project) with high quality cabinet refinishing in any room of the house, but usually this will be a bathroom or kitchen. Countertop refinishing. Have older antique furniture that needs some gentle treatment? Antique furniture refinishing is something that we can ALSO help you with! Tile refinishing or recoloring. Shower refinishing / recolors – gelcoat shower enclosures too! Sink refinishing. Have an ordinary developer grade stainless sink in your kitchen? We can throw a super-looking layer of porcelain on that for you to get you a WHOLE new look to your kitchen. And, of course, bathtub reglazing.
With so many options through [link id=10]Specialized Refinishing[/link], make us one of your first calls on YOUR next project!